On this page you can see many of our pups with their new families, as well as some shots of our past litters
Roxy & Hanks Feb 2010 Litter
Trixie now named Lilly with her new family
Hank Jr
Sampson
 Bear
 Roxy & Hanks October 2010 Litter
Chubbo Now named Chase
Dottie
Ginger
Big Red
Bandit
Teddy
This guy was Big Red from Roxy and Hanks Oct 2010 Litter.  Now named Rambo. He is the spittin image of his Dad. Such a handsome boy.
*
Baby & Ace's May 2011 Litter Below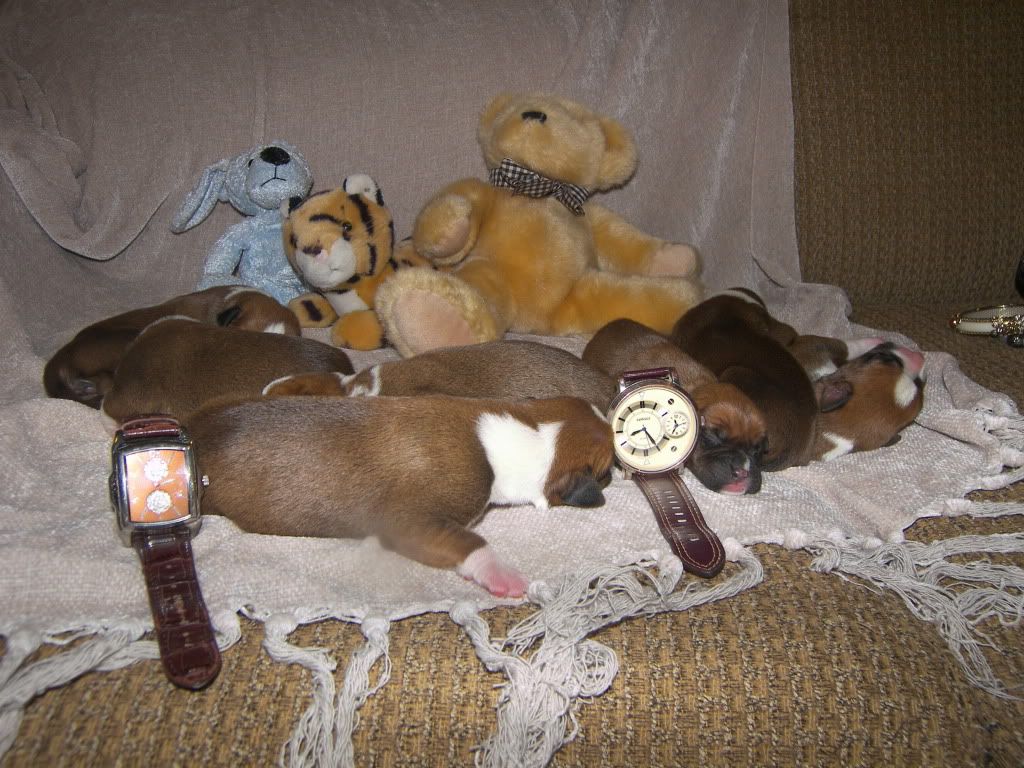 Oodles of Puppies
♥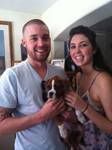 Jazz with his new Family
Now named Bishop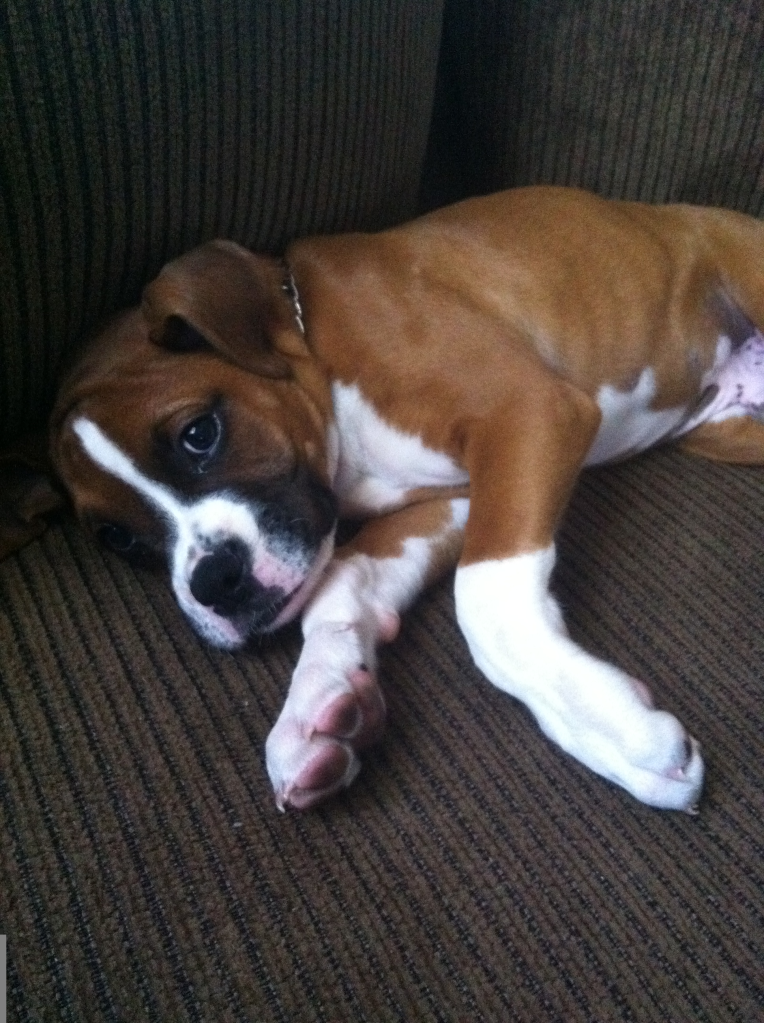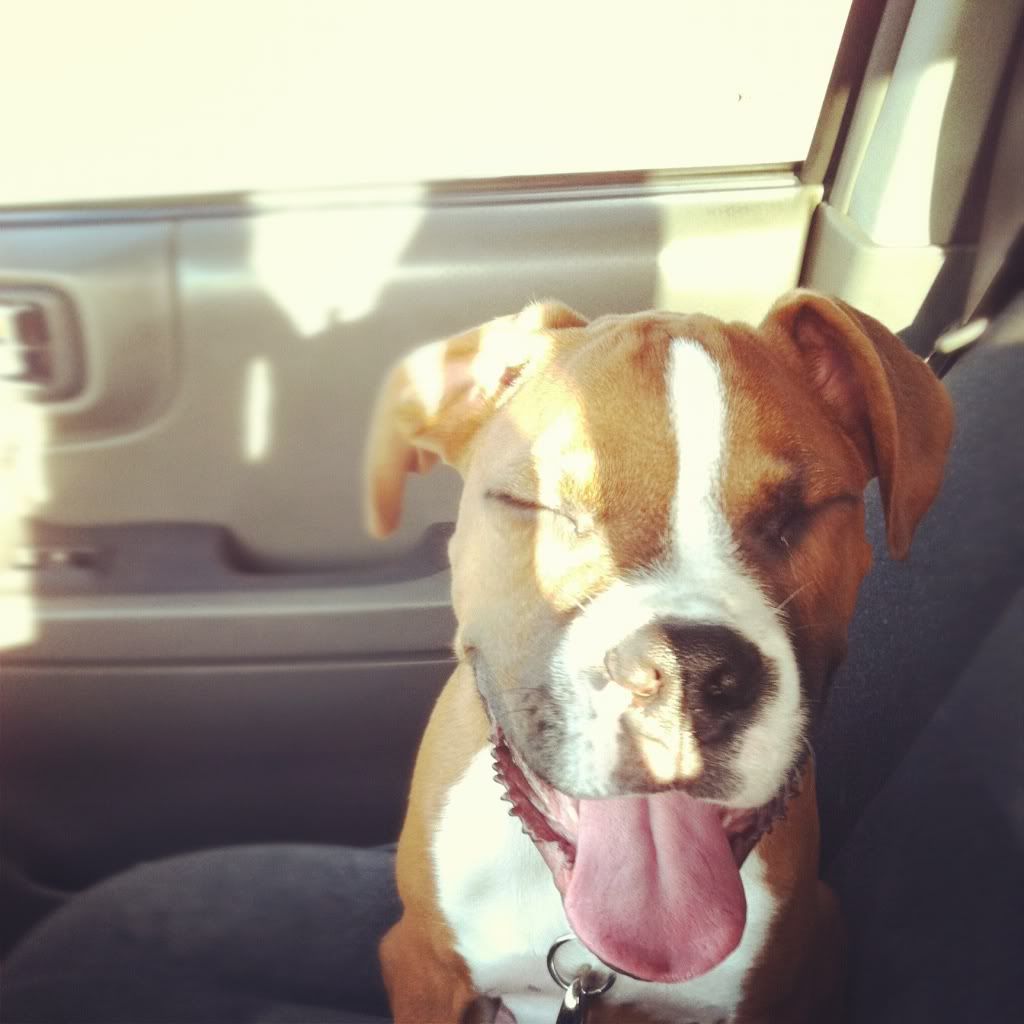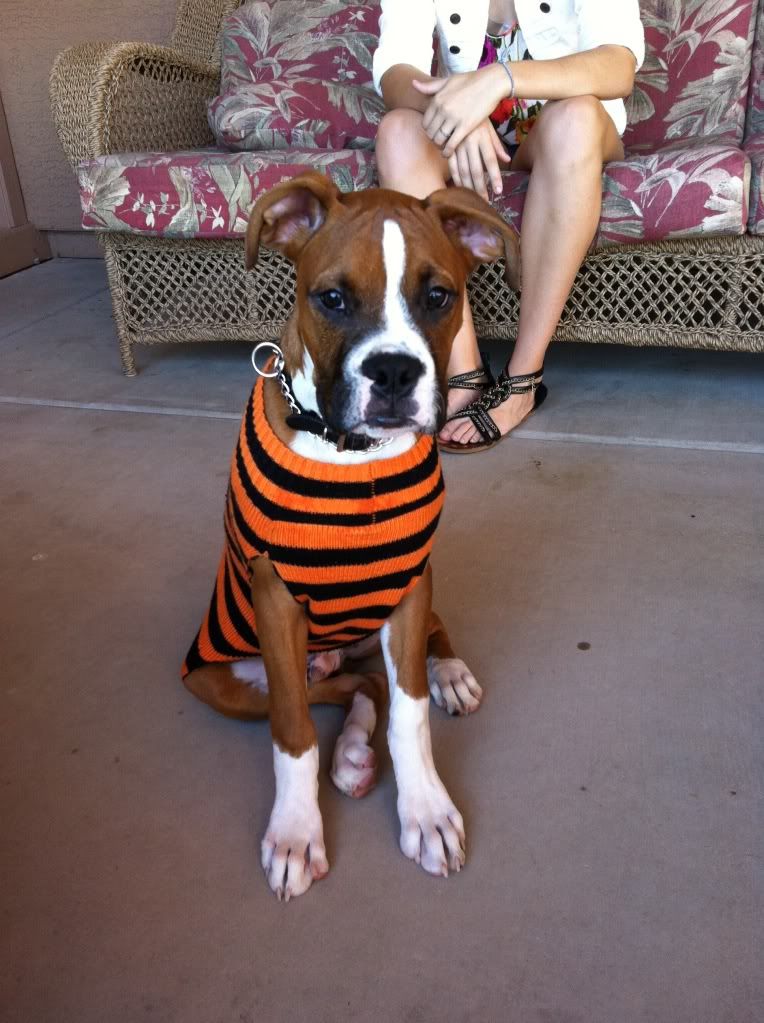 Bishop currently 6 months old. So cute in his sweater.
A little video they made of Bishop.  He is such a smart boy.
Sire with his new family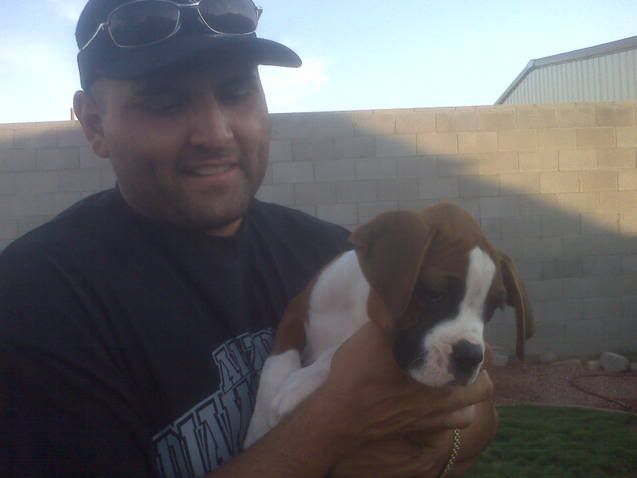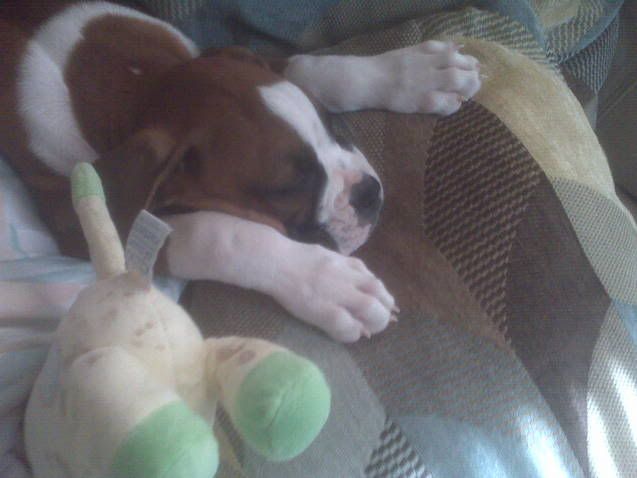 Puppy Love 
Diva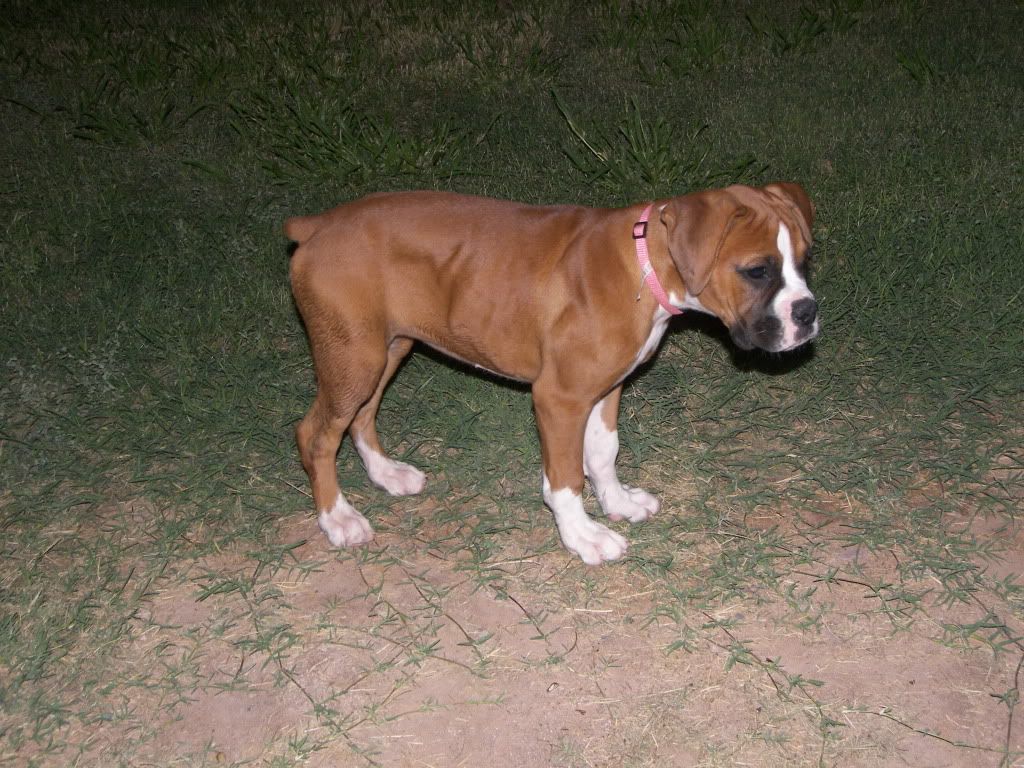 Diva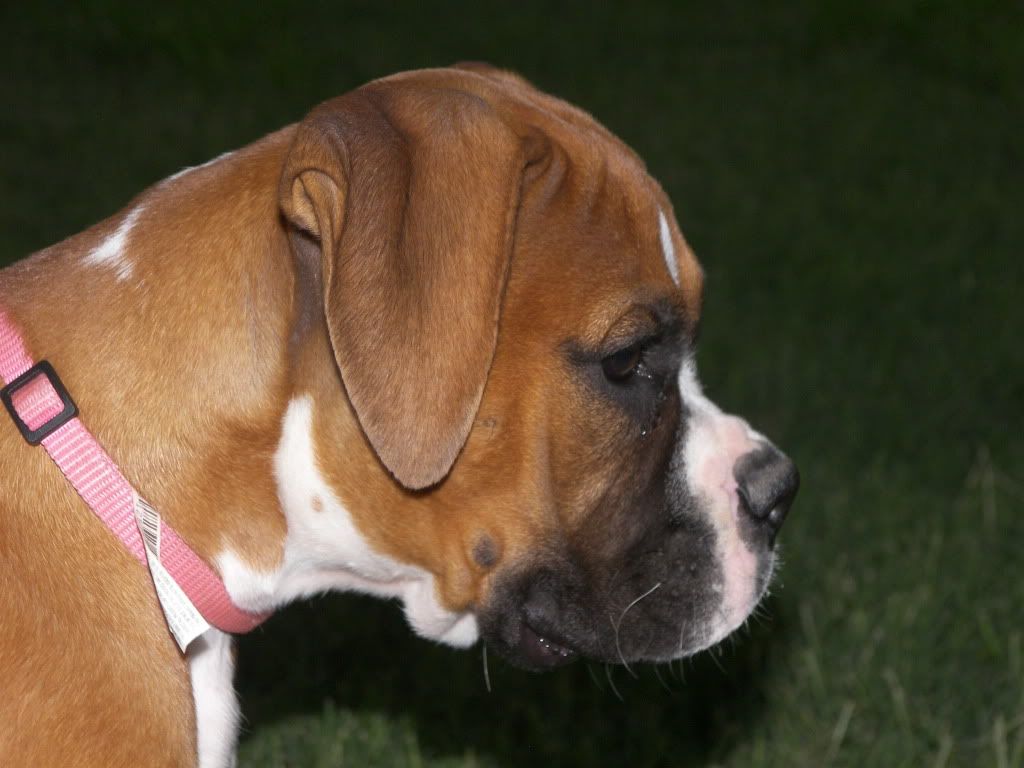 Diva now lives in Coolidge AZ,  with her new family.
York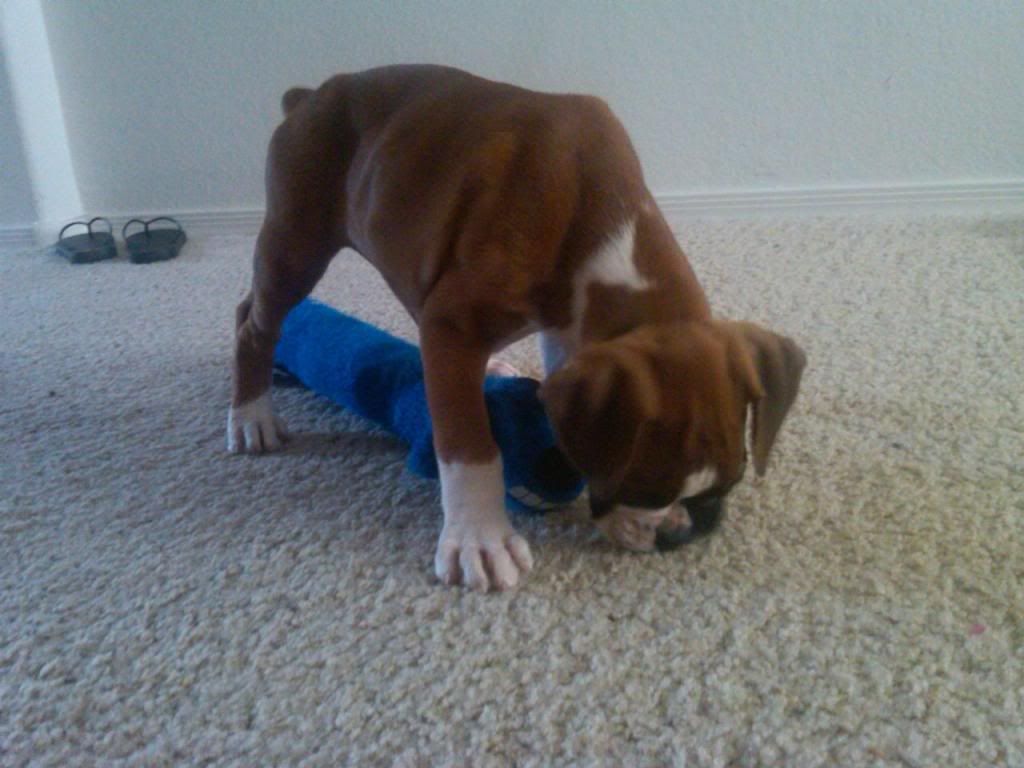 York at his new home.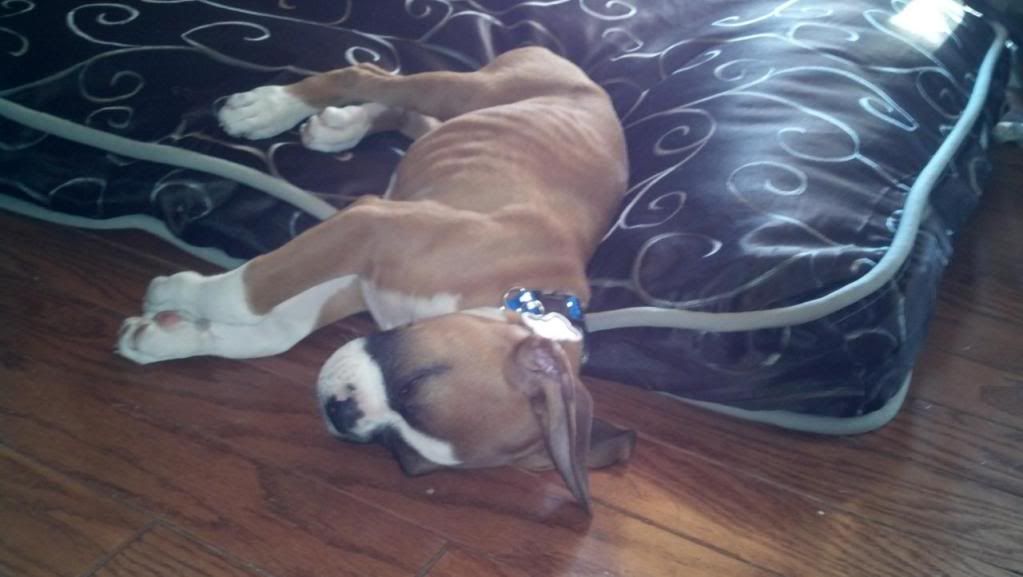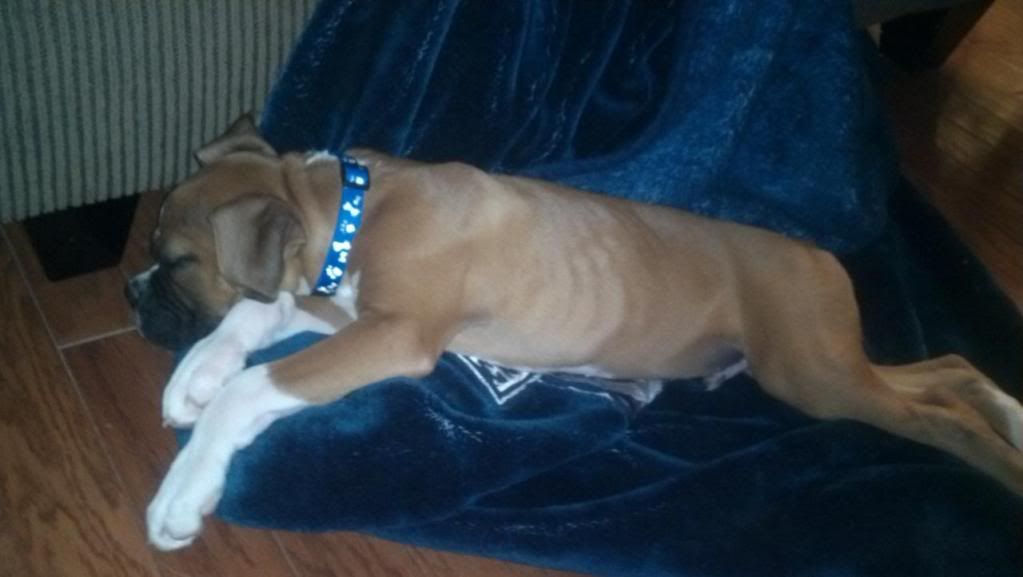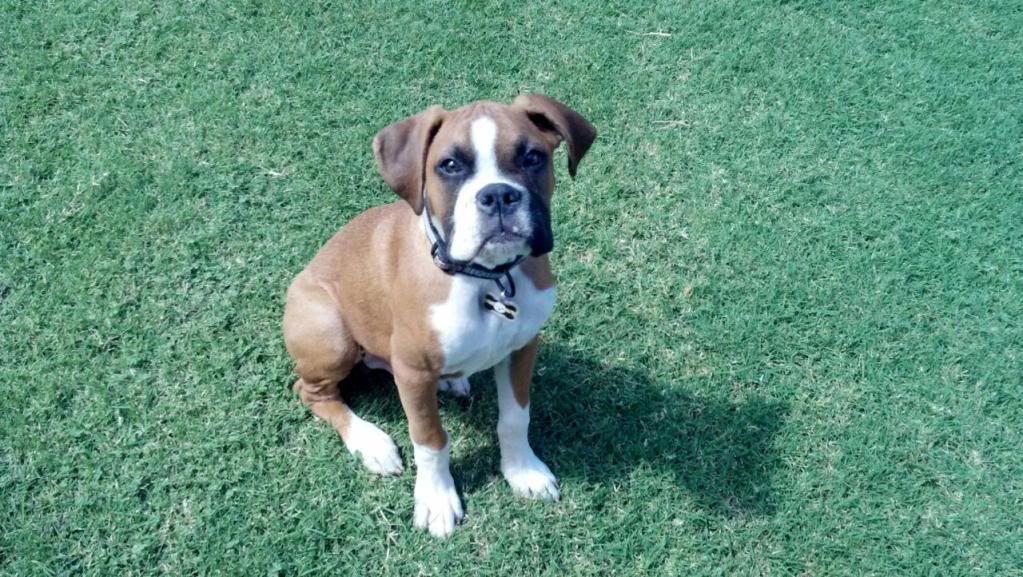 He is such a Handsome Boy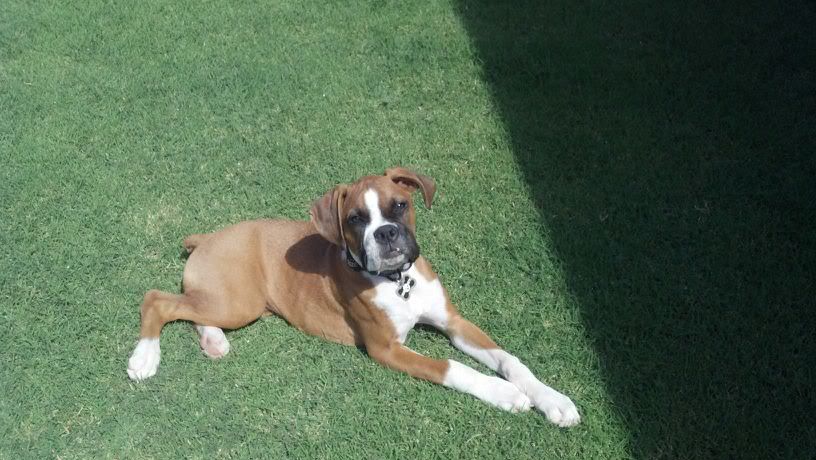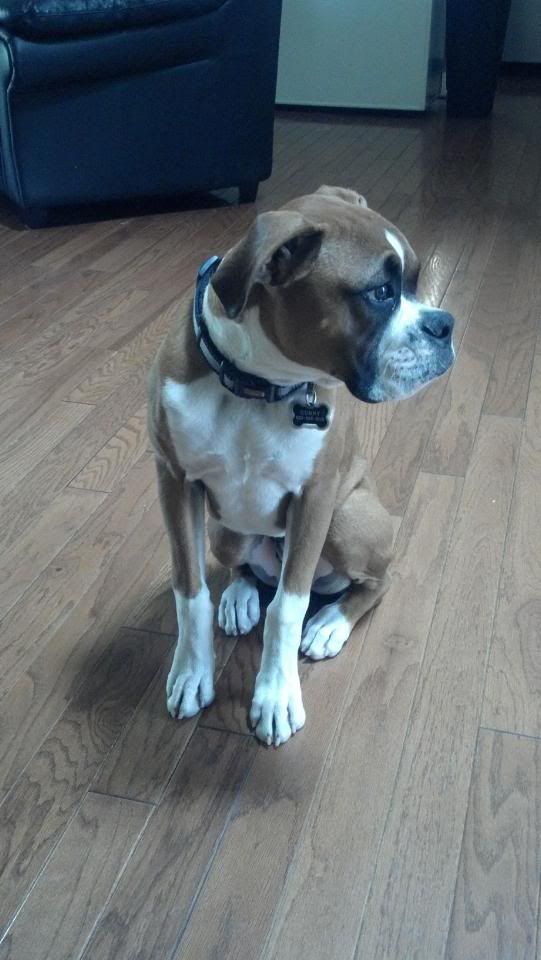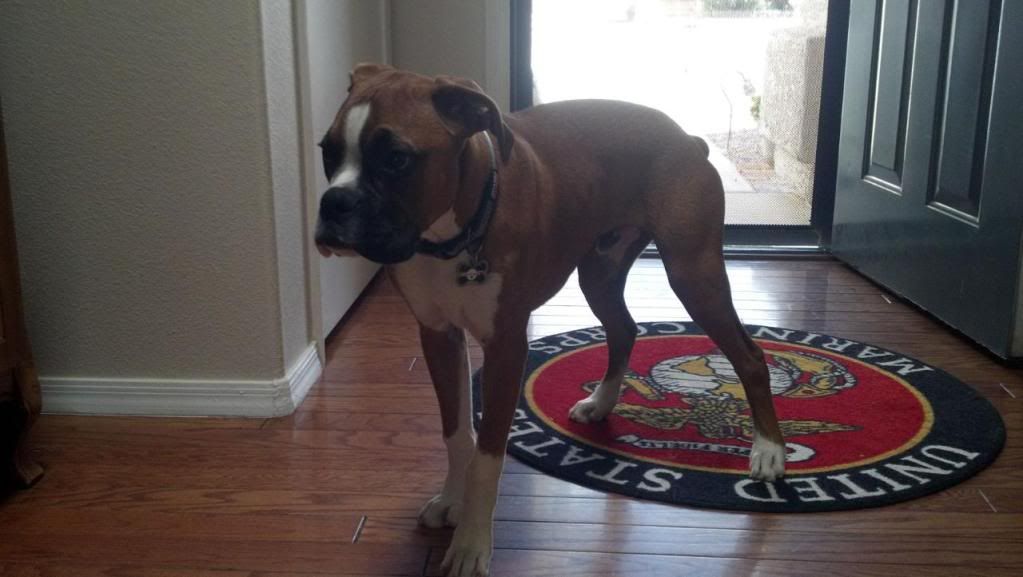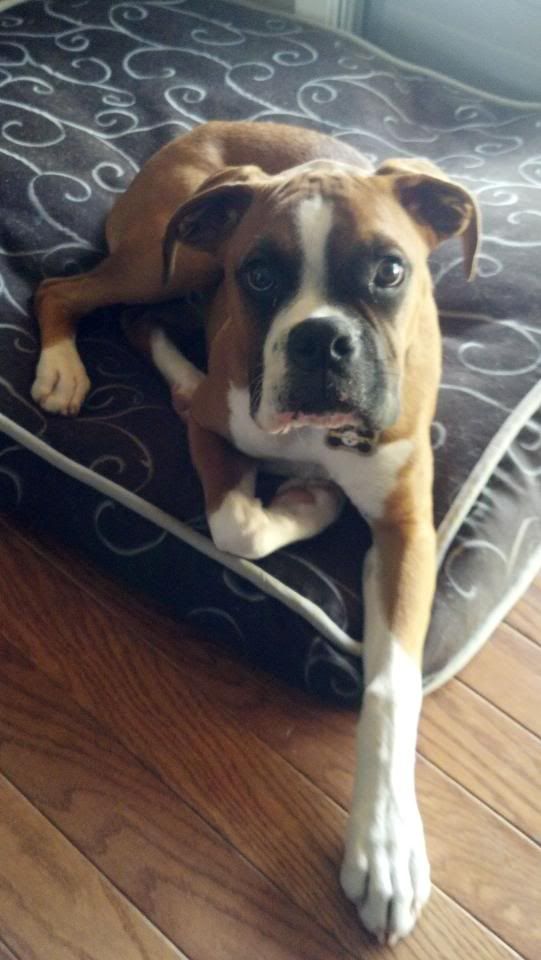 York   He looks so much like his mamma.
Sassy now named Chloe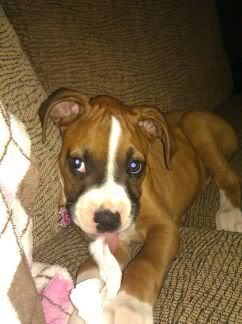 Notice the tissue she is chewing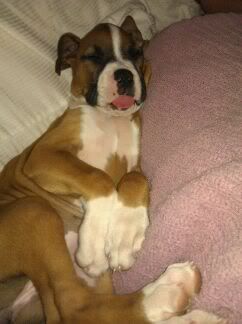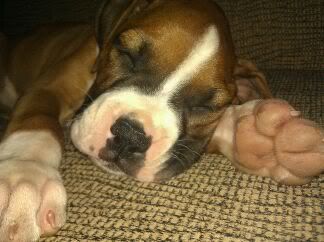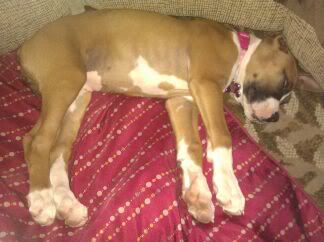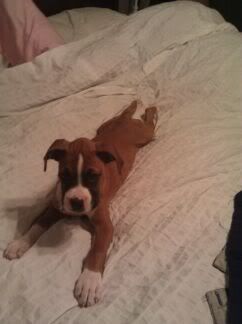 Bolt
 Here is a video of Bolt sent to us by his new family.
Baby and Ace's January 2012 Litter.
This litter was named after famous old movie stars.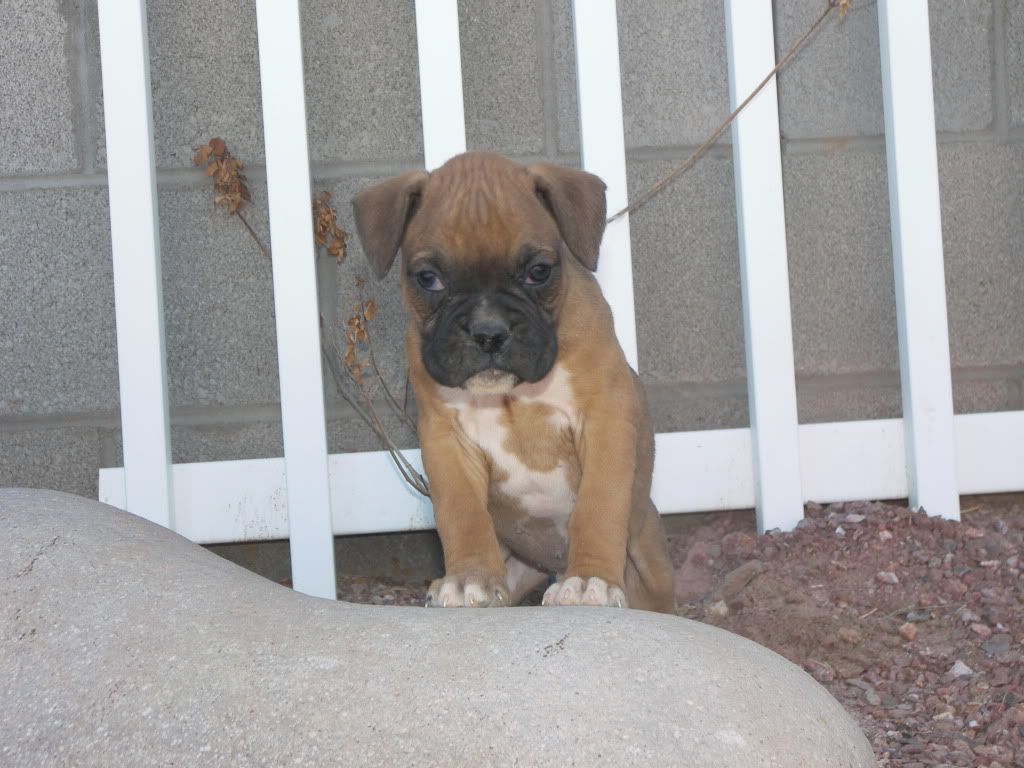 Clark Gable
Now named Enzo by his new family. Here he is in his new bed in his new home.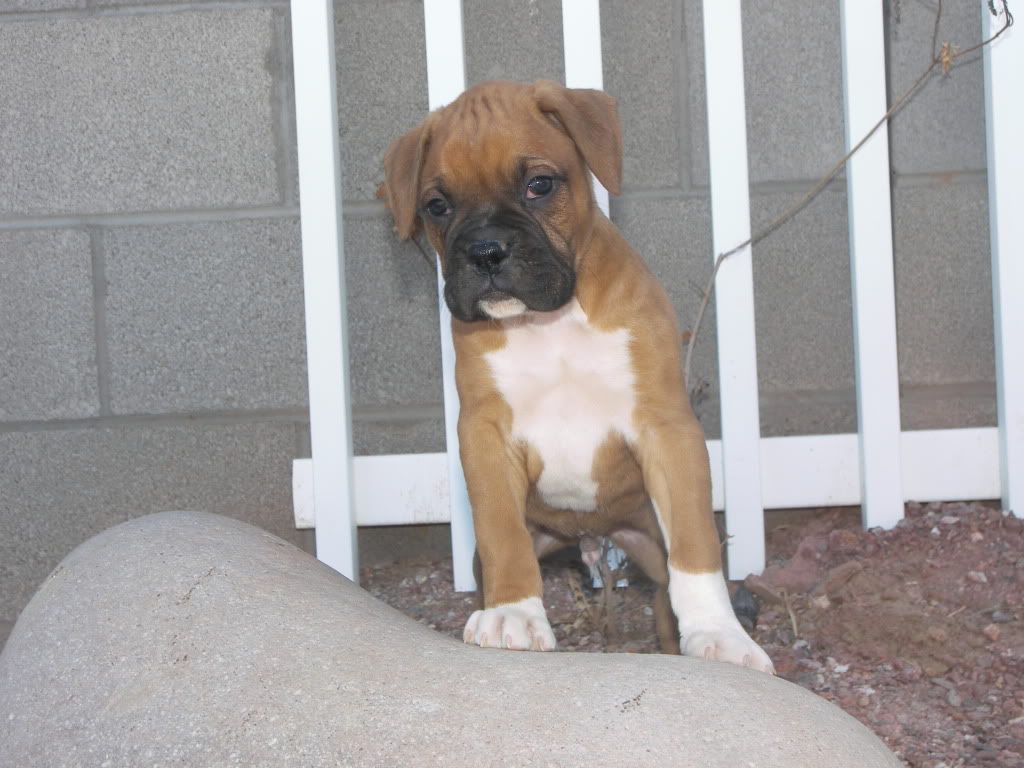 Humphrey Bogart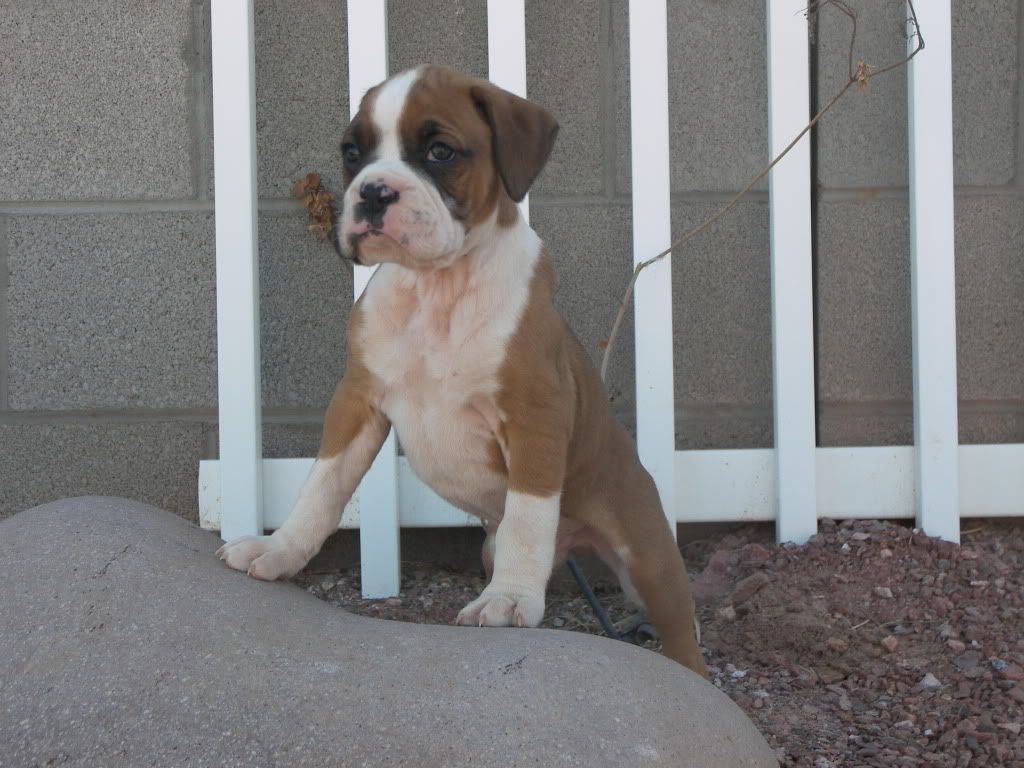 Spencer Tracy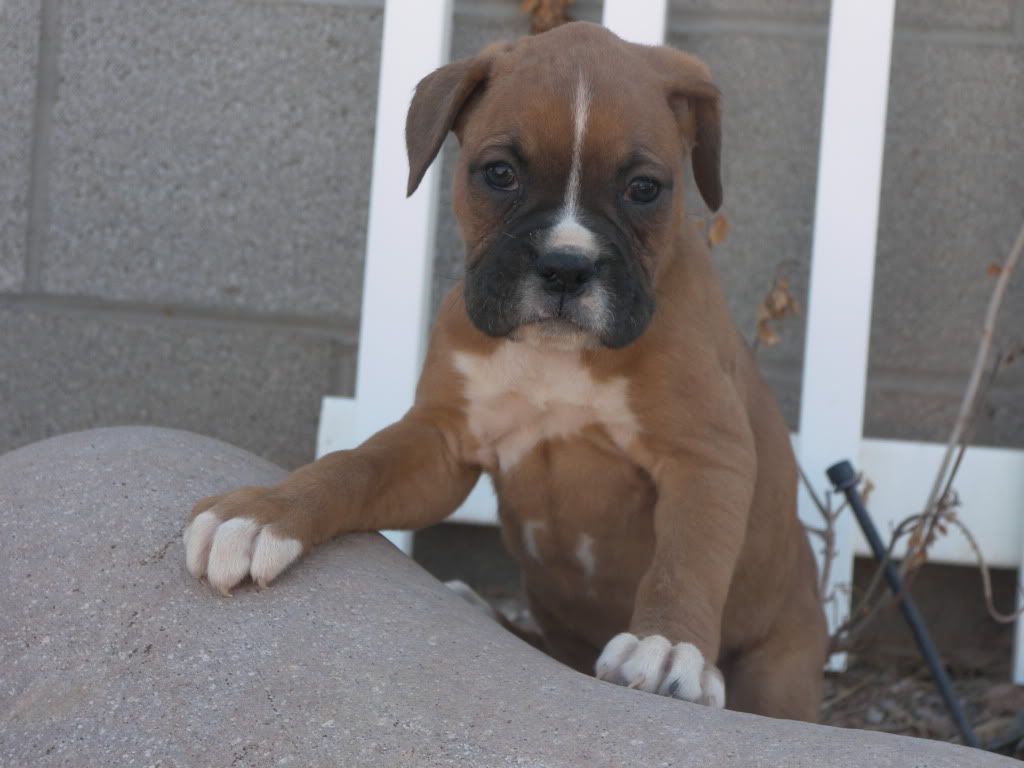 Doris Day
Ginger Rogers
Audrey Hepburn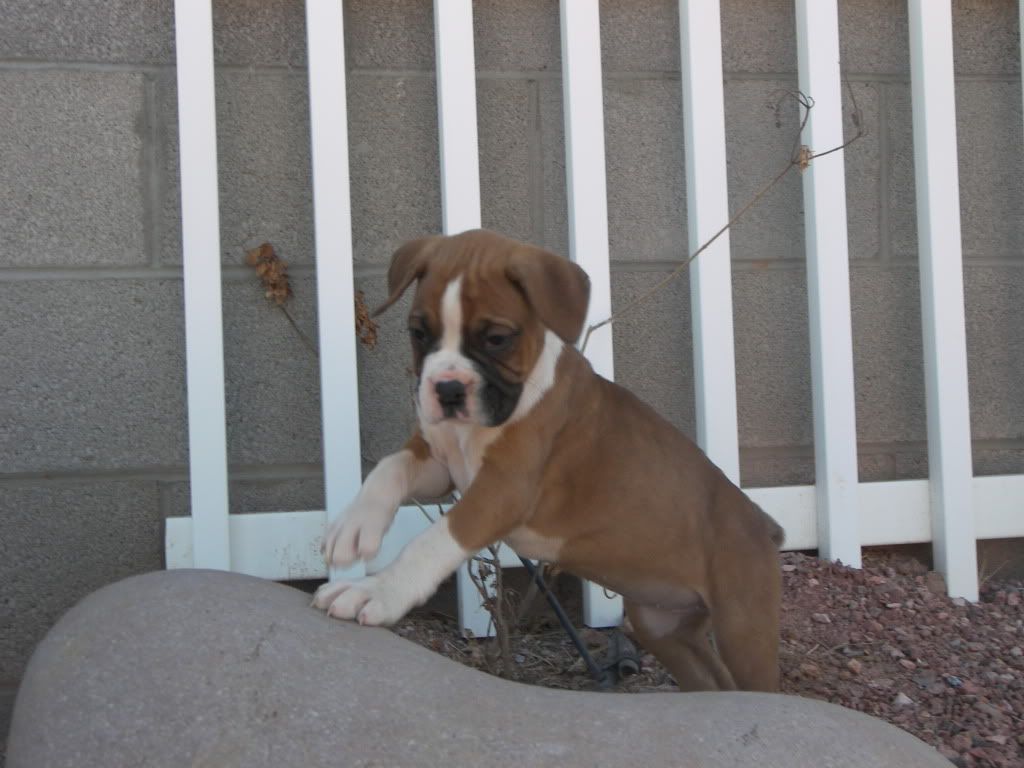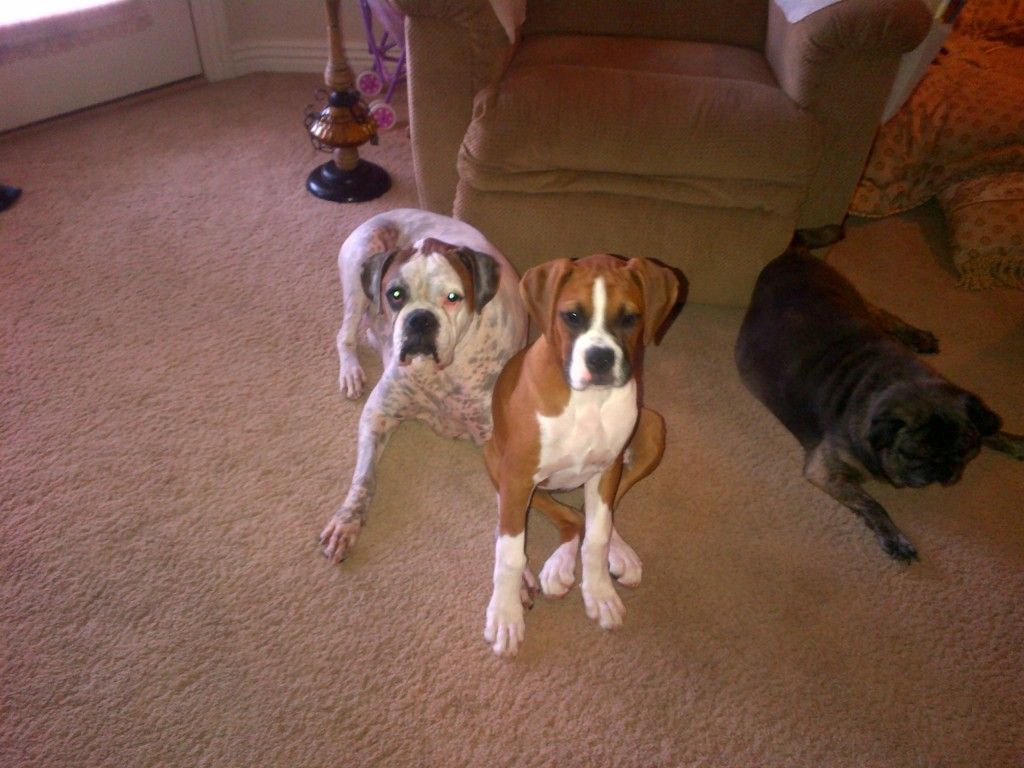 (formerly known as Bette Davis)
Hi ,
Hope you and your family are doing well.
Just wanted to give you an update on Abbey.
She just got spade last Monday and is doing very well. She has grown so fast and so big we just can't believe it. She is 40 pounds! She is almost as big as our 7 year old Boxer.
Last weekend we put her in the pool and she loves it. She didn't want to get out. She tries to bite the water as she's swimming. It's hilarious to watch.
Next time we put her in I will try to remember to take a video of it and send it to you.
She sure likes the water... She even bites the hose when we are trying to water.
She has truly been a joyful addition to our family.
We can't wait to see Sampson's puppies.
Have a great day!
Take Care!
Thank you,
Julie
.
Roxy and Hank's 2012 Spring Litter
Beatrice in her video above.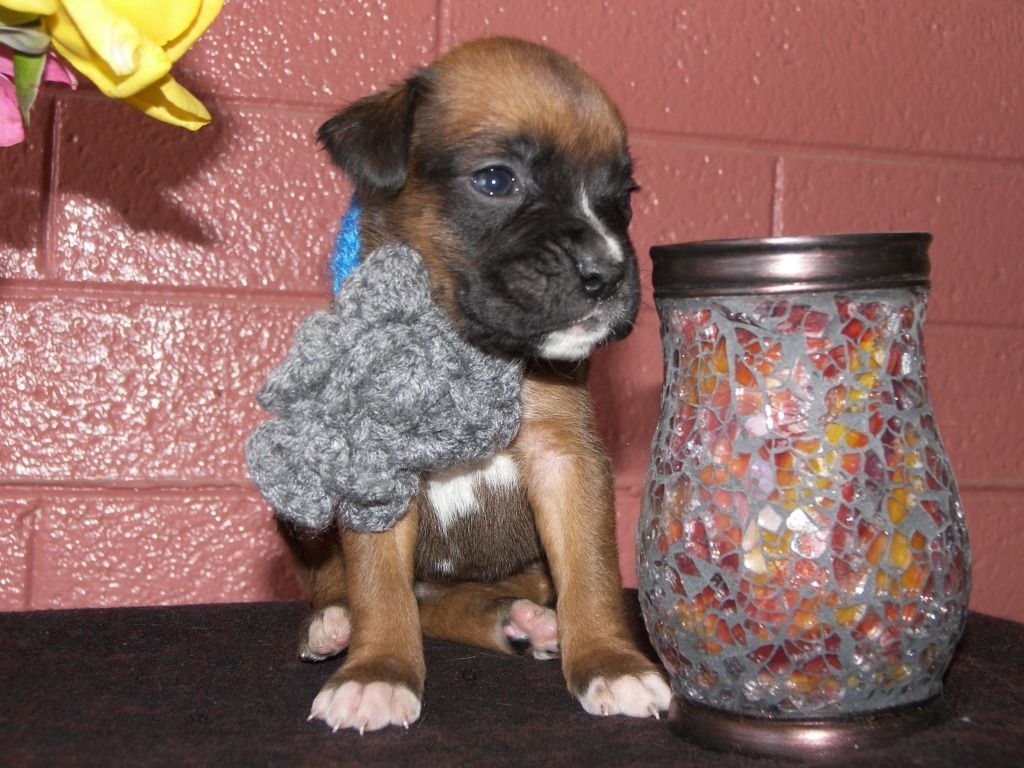 Beatrice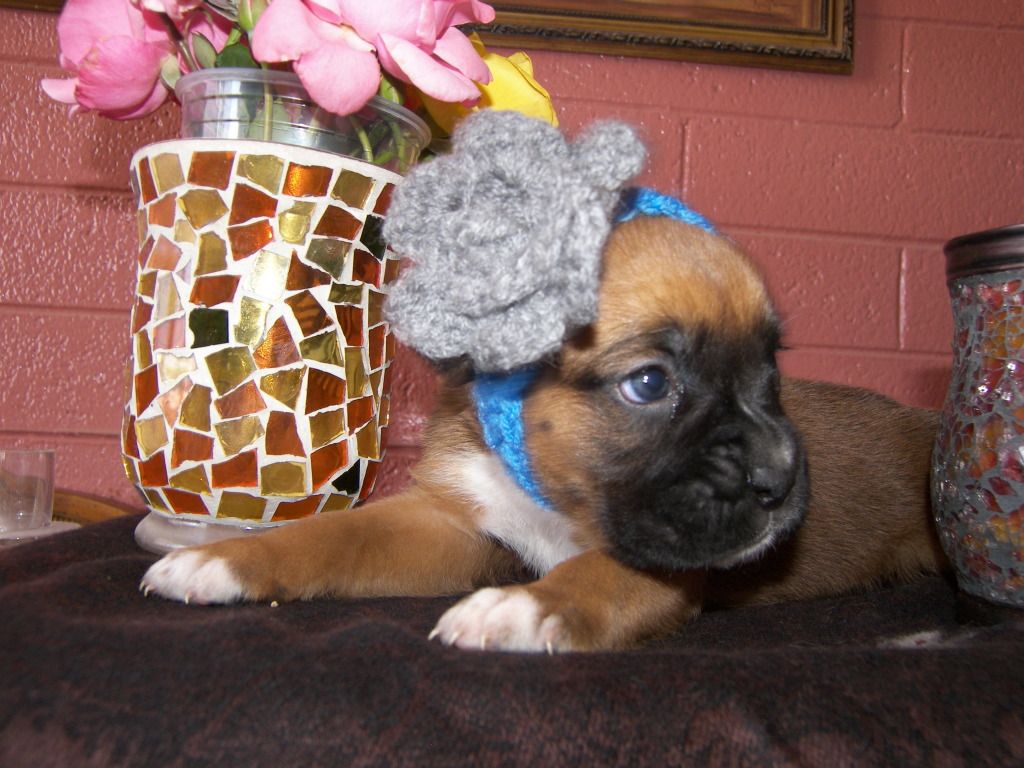 Beverly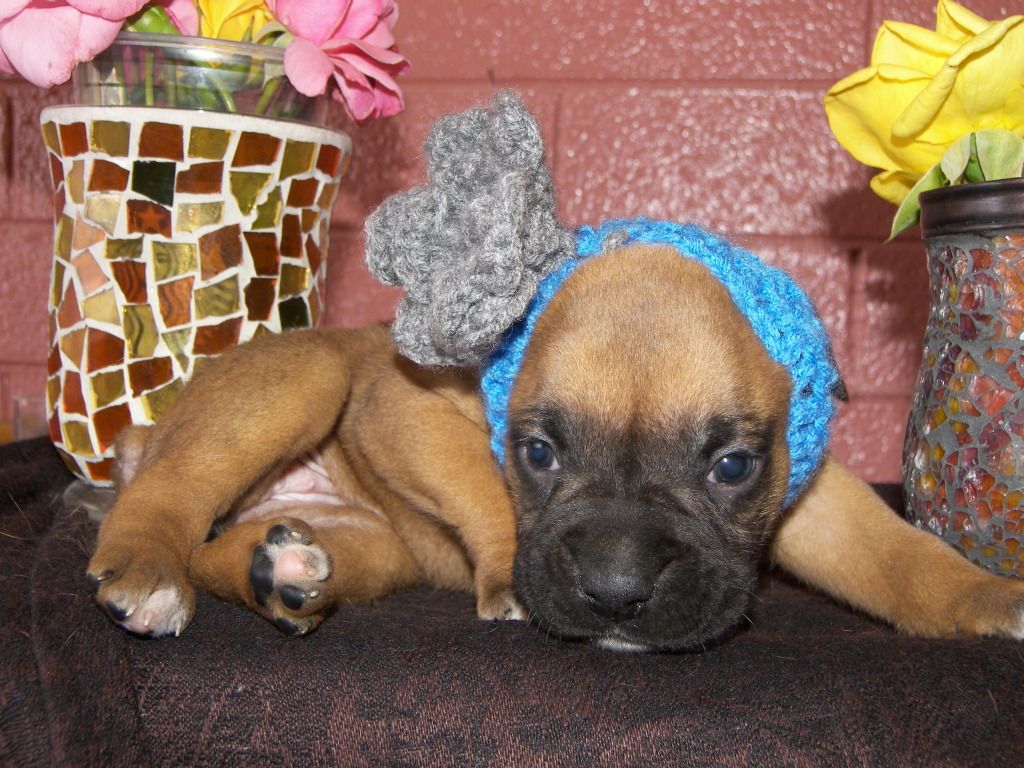 Bonnie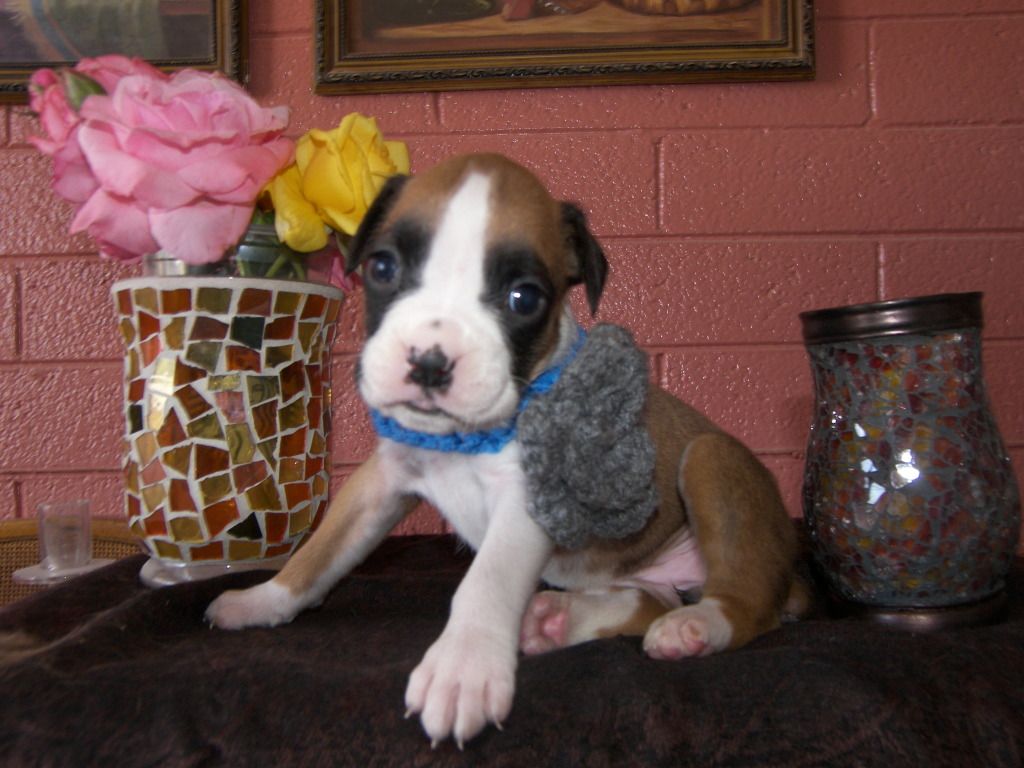 Baily
Well, we made it home safely with our new Bailey. She is such a lover. We got her on the grass at
the local city park tonight when we got back so she could piddle. She really enjoyed the lawn and
rolled and jumped in it and seemed very happy.

She got to meet our two Boxers at a safe distance once we got home and we will keep it that way
for several days so no one gets carried away and hurt.
I don't remember you telling us that Bailey was a lap dog but sure enough, you need a pry bar to
get her out of our laps. She is so cute.

We should be taking pictures of her right along and when we feel comfortable putting her with our
other two "kids" we will send you a picture of all three together.
Thank you for allowing us to be able to adopt Bailey and we will take great care of her.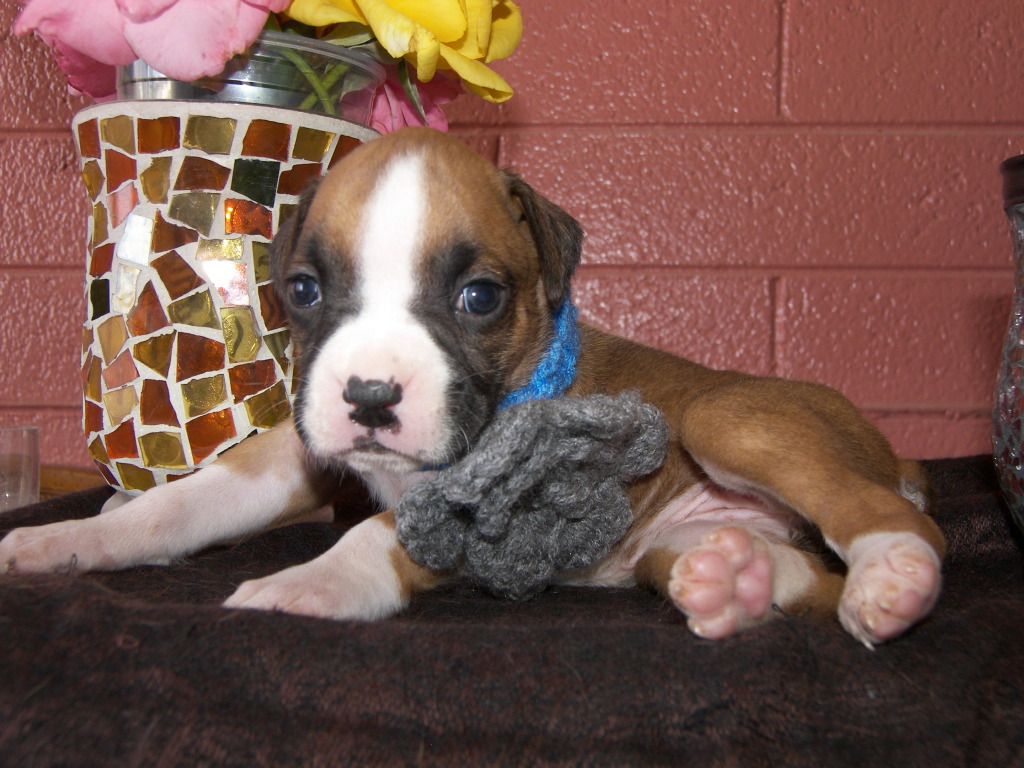 Brandy
Hello!

Willy and I wanted to send you guys some pictures of "Brandy" now named Khaleesi. She is an absolute sweetheart! She is a lot calmer than I thought she would be, which is very nice. She has brought so much joy to our lives. We took a road trip back to the Chicagoland area, where we are from, and she got to meet all of our friends and family. She swam in a lake, went boating and played with lots of other dogs!

Here are some recent pictures. Feel free to put them on the website if you wish!

Thank you guys!

Shana and Willy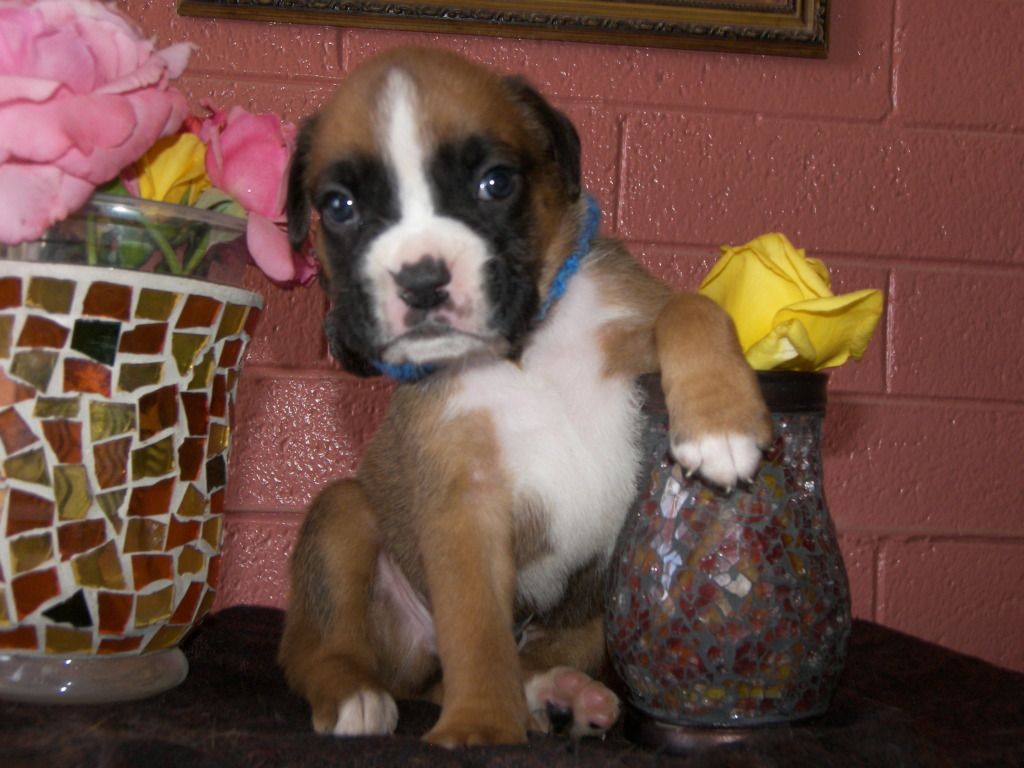 Brutus 
 We just wanted to update you guys on our little Opie (formerly
Brutus). He is SO much fun and so very cute. We are the proudest
parents ever. He's getting so BIG! He weighed in at 13.5 pounds, 2
weeks ago and is even bigger at almost 12 weeks! He loves people so
much, especially children! He also loves other dogs, big and small! We
take him for playdates often with some of his "cousins" and also try
to take him to the park every evening. He's a little spit fire and
loves to get into mischief but is so cute, we can never be mad at him.
:)

Thank you guys so much for bringing this little angel into our lives!
We love him to pieces and will take very good care of him.

Elyse, Dave, and Opie !

PS- He looks a lot like his mom and dad, don't you think?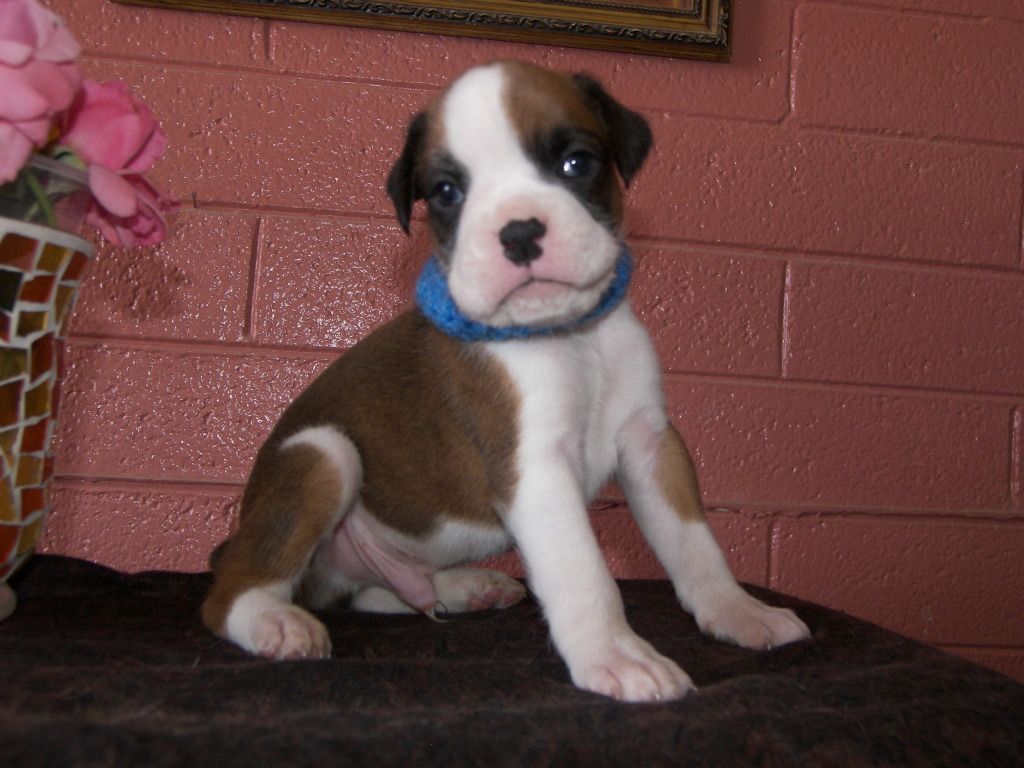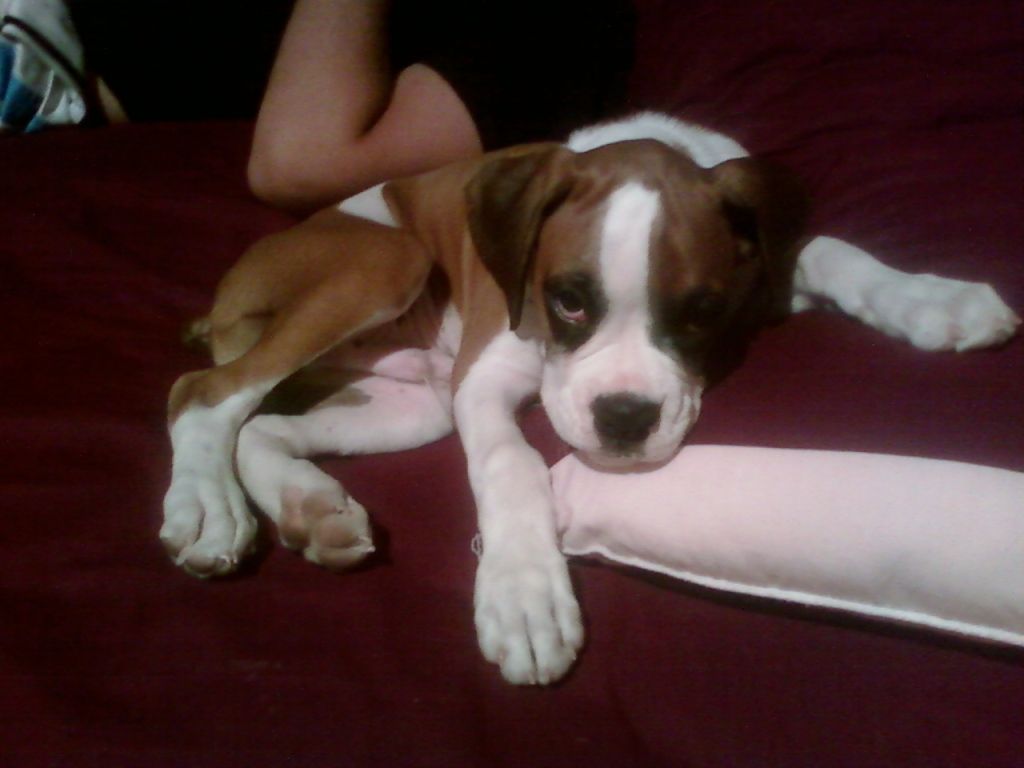 Bernard
This little guy has been given the name Roci by his new family. He is going to be a big boy.
Lady and Sampson's 7/13/2012 litter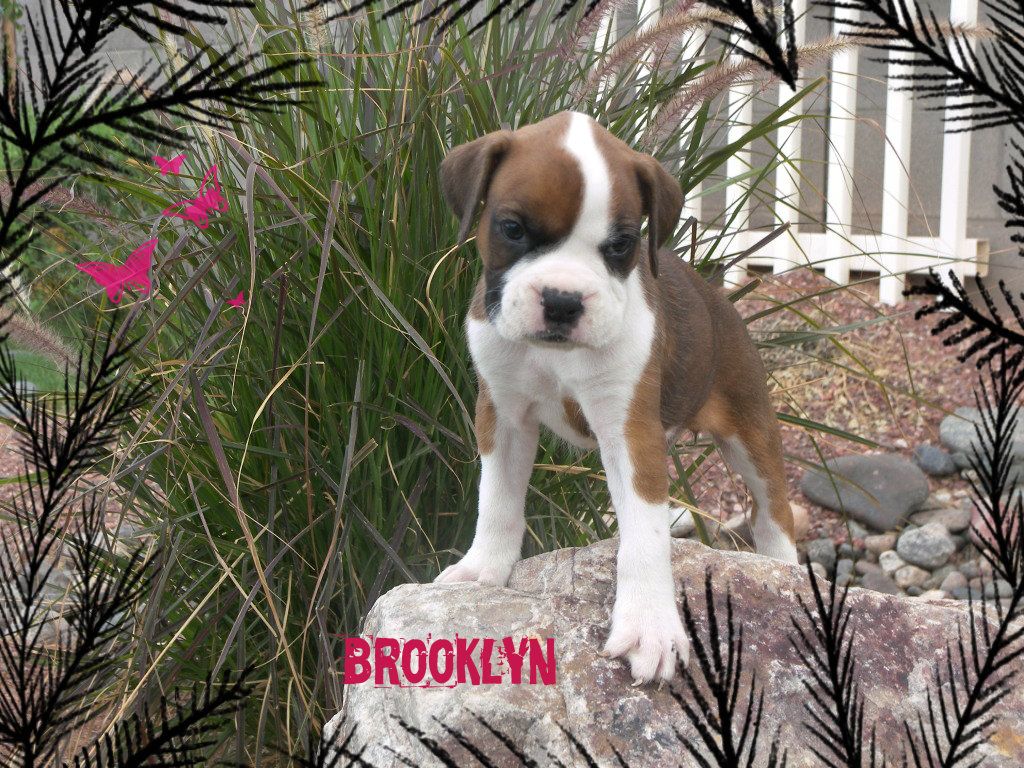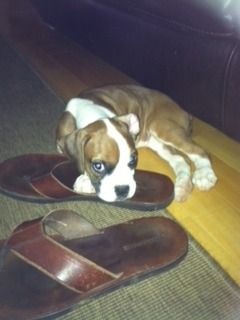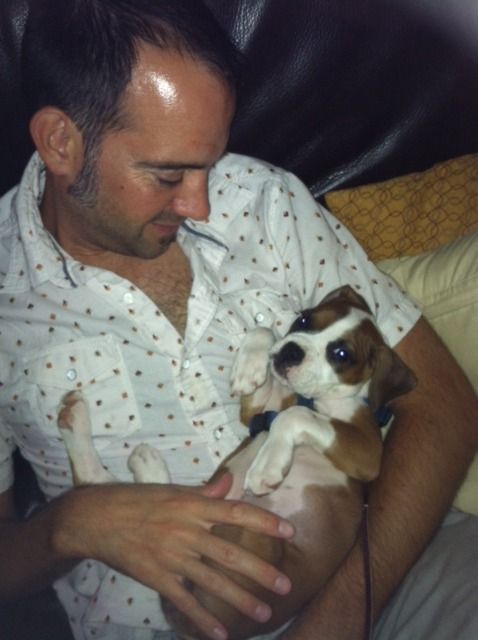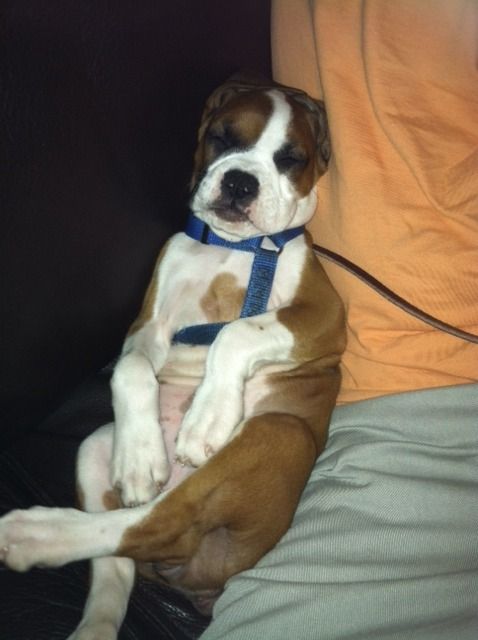 Zonked!
See Luna in her Video above.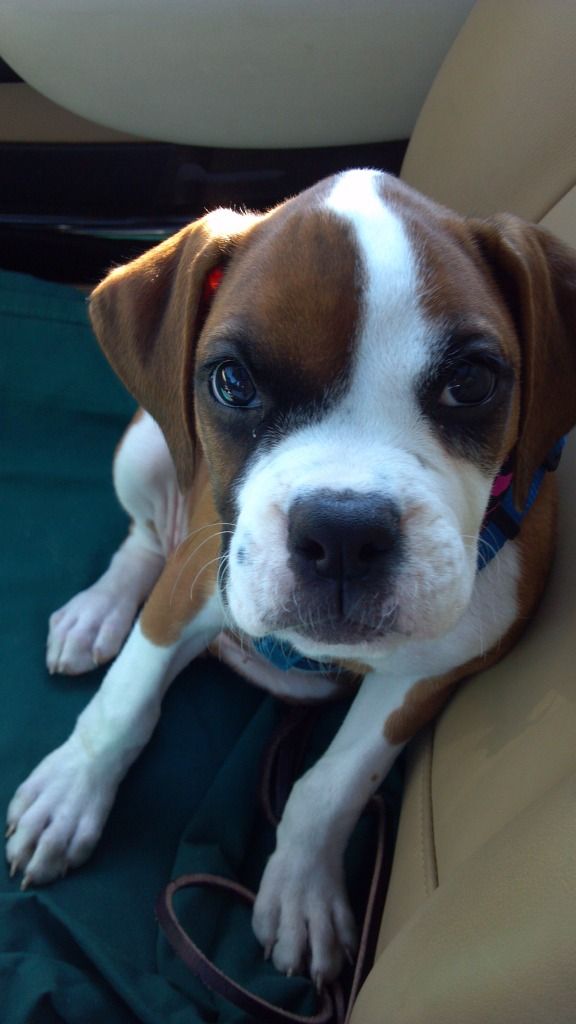 Now named Luna
Hi Rachel--here's a foto for your enjoyment--she's settling in great and has mastered the dog run and the dog
doors!
We are all so very happy to have her in our family.

Rachel,
Hope all is well with you!
Luna (formerly Brooklyn) is such a wonder little dog! We have nicknamed her the "little piggy" and she has the sweetest personality. Enjoy the video. We'll try to keep them coming as she continues to grow.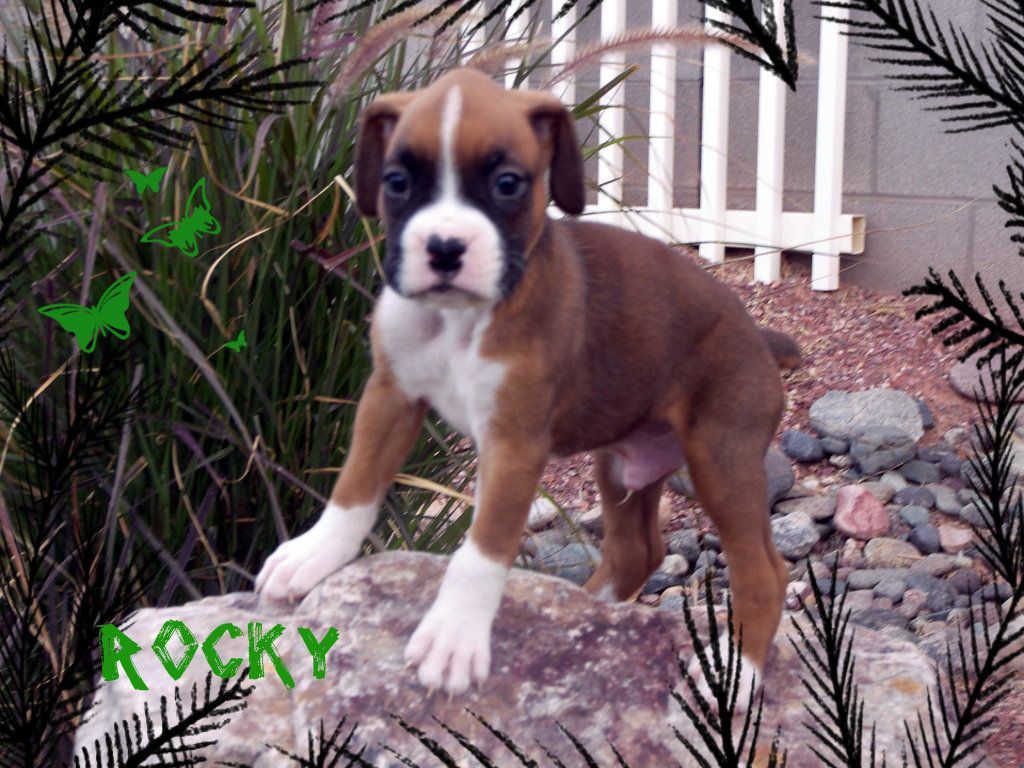 Now named Berrett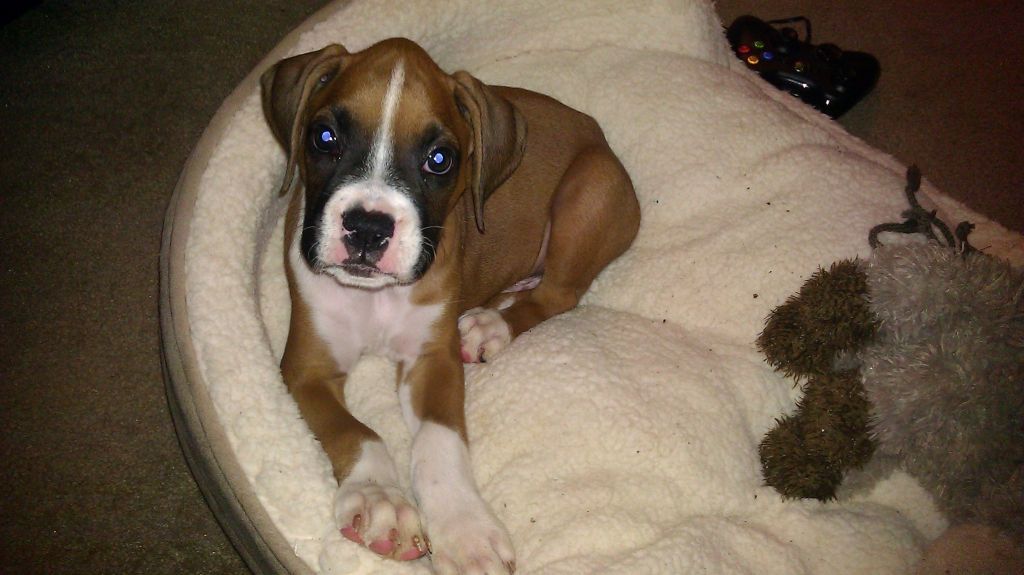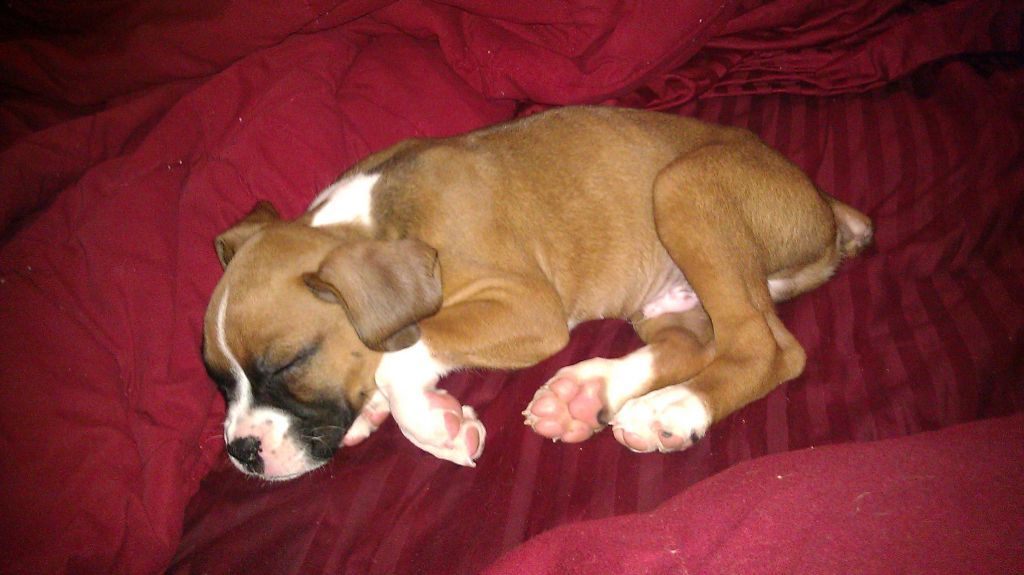 Hi!
This is Danica, the new owner of Rocky, now named Barrett. I just wanted to send you an update and let you know that he is doing great! He is so precious to us and we absolutely love having him in our family. He is such a joy to be around and he is such a smart and loving puppy. We are already working on teaching him to sit and shake hands, and he loves to snuggle during nap time. Thank you so much! I have attached some pictures of him, as promised.
Thanks again!
P.S.- he transferred puppy food very well and has been eating like a champ.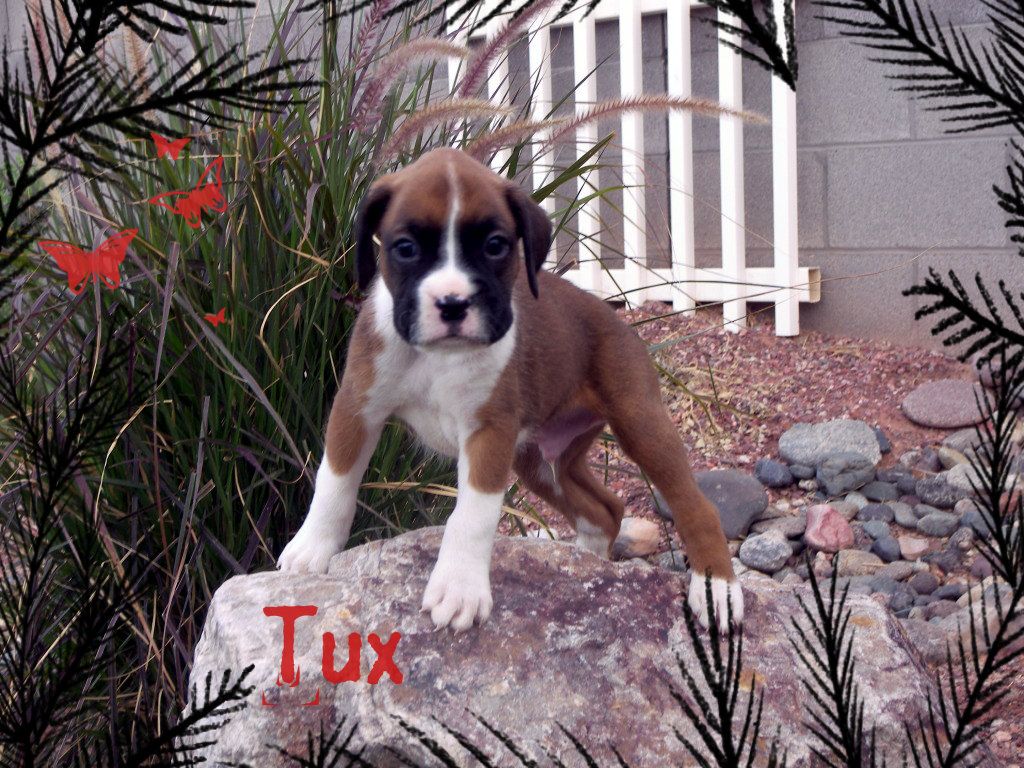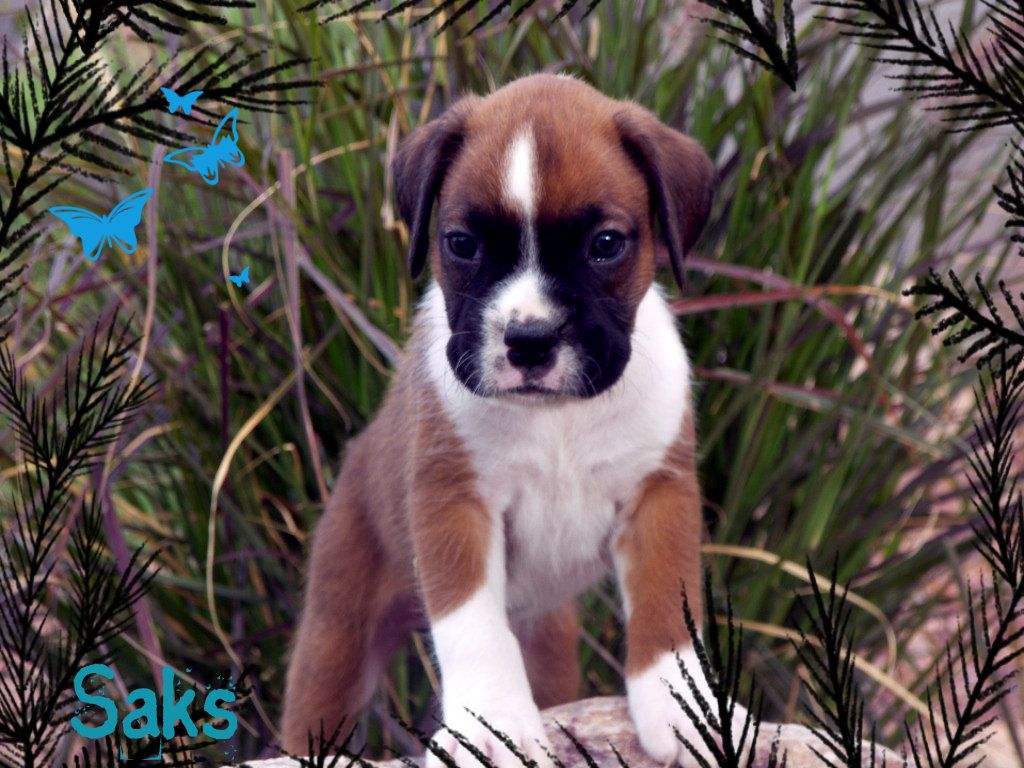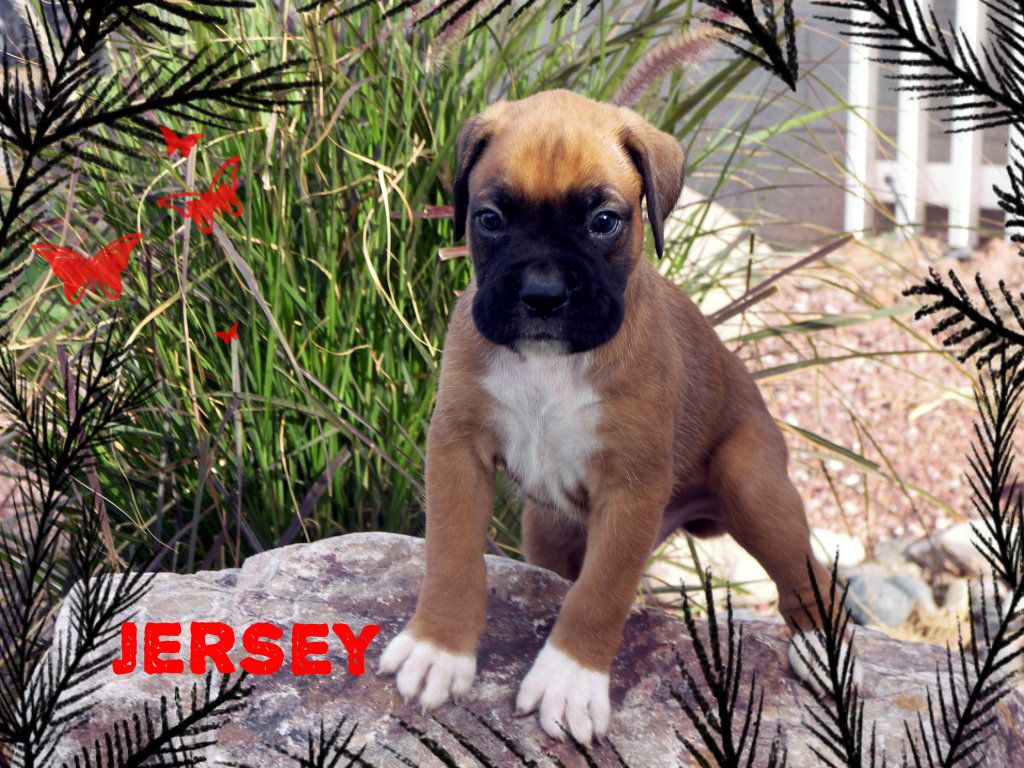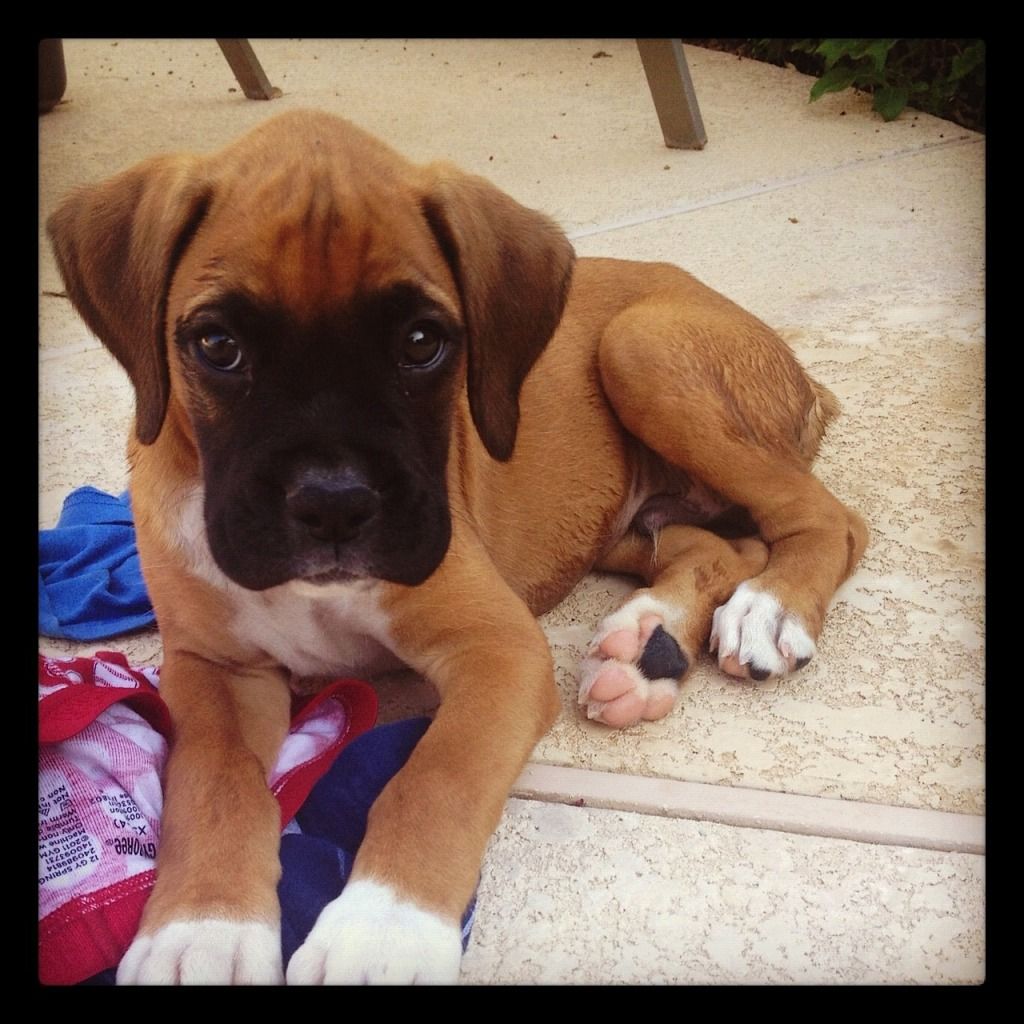 Rachel & Jessica,

Wanted to send you a picture update of Jersey! He's settling in to his new home and we are loving every minute of it. The boys just love him…sometimes a little too much. I feel I'm having to train them more than the dog! All in all, it's going well.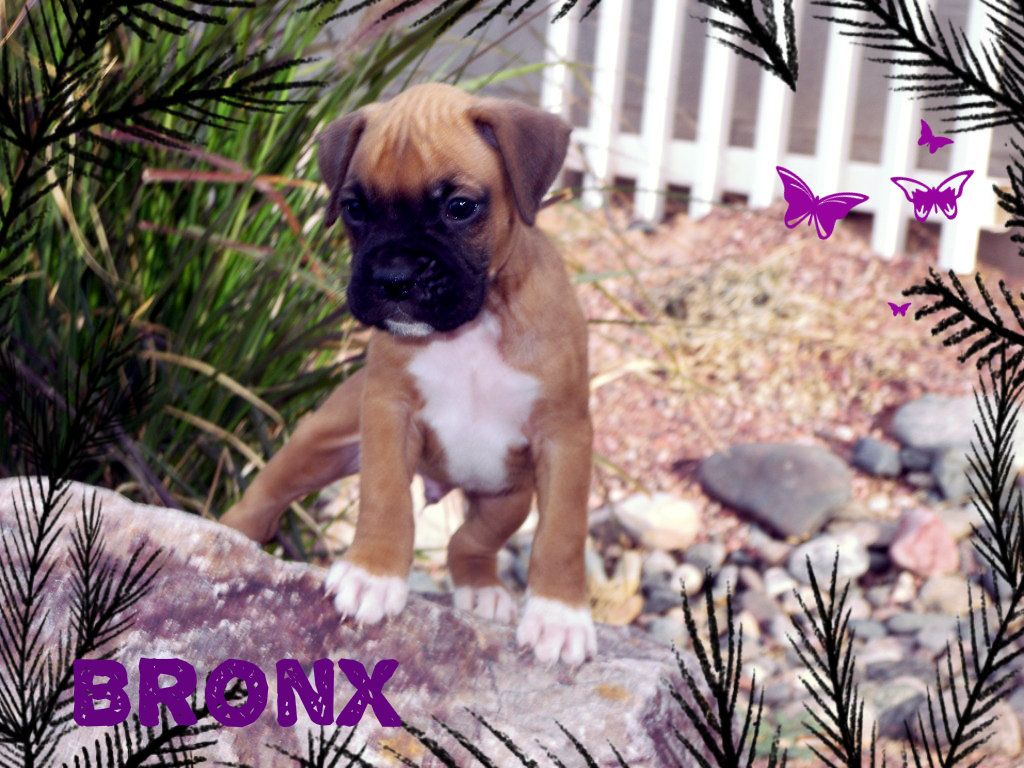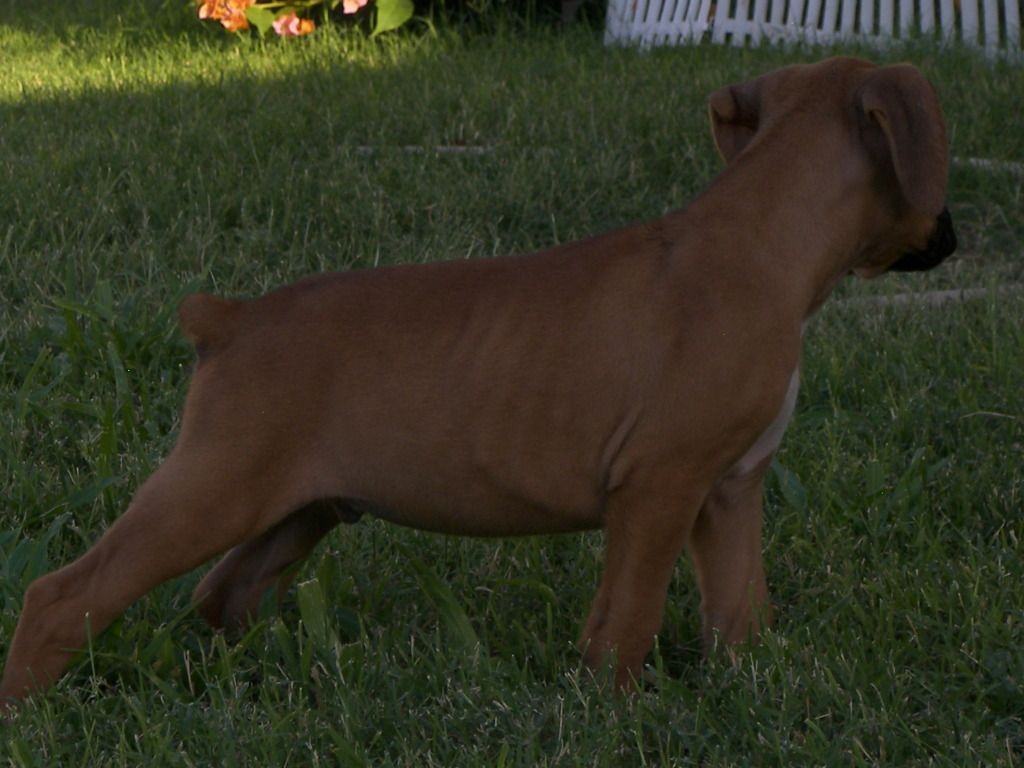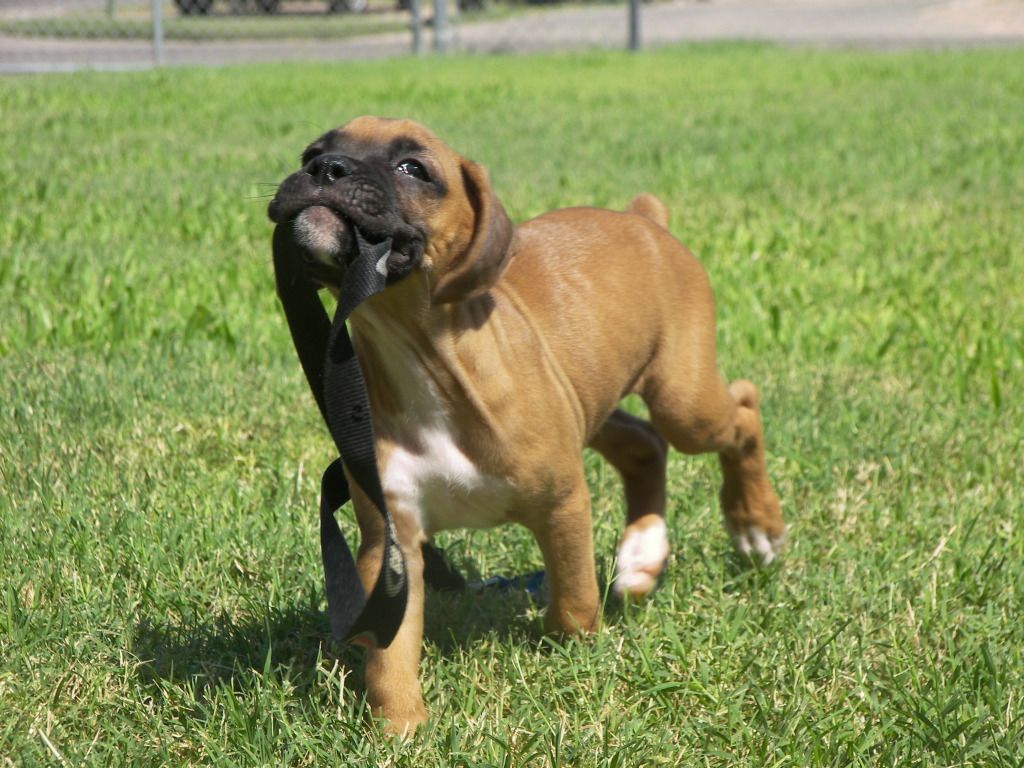 Little Bronx in his video
Maybel and Bears September 2012 Litter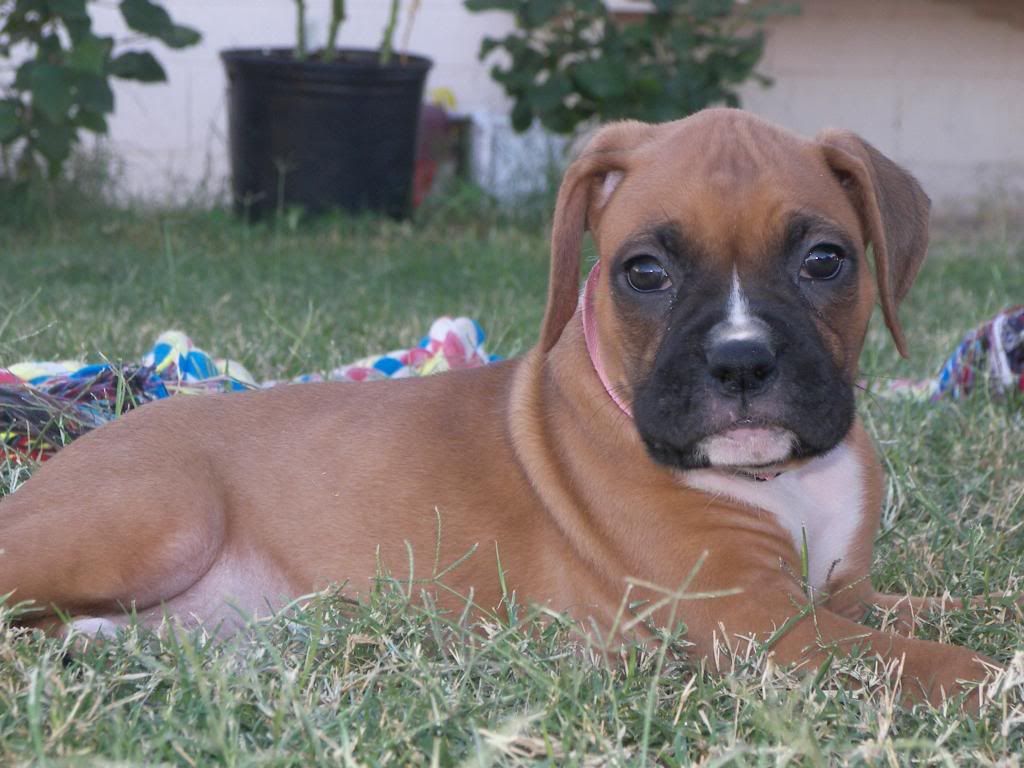 Kitty
This girl has been given the name May May by her new family.
 Collins
This guy has been given the name Loki by his new family.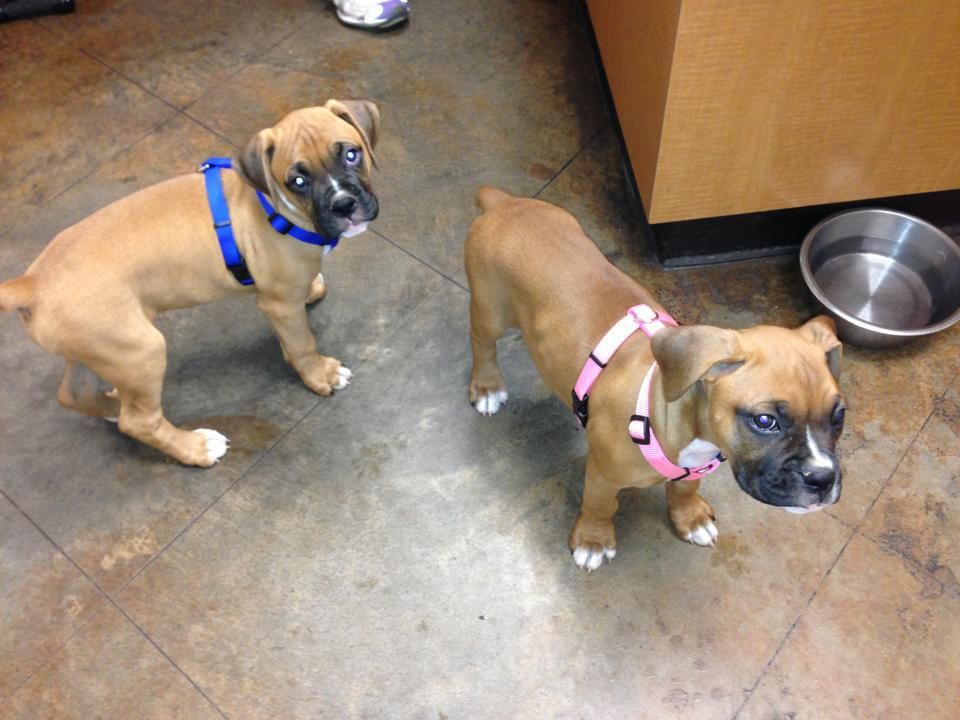 Loki and MayMay at their new Vet.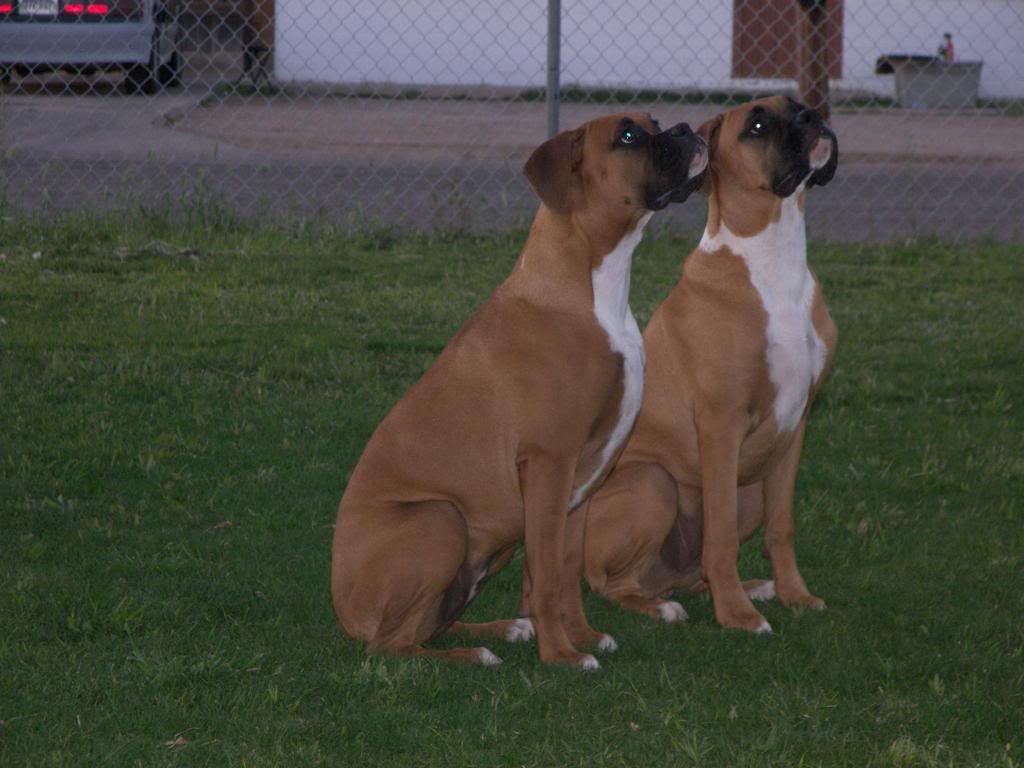 Loki and May May 6 months old. Loki is not the runt anymore.
Jane
This girl has been given the name Holley by her new family.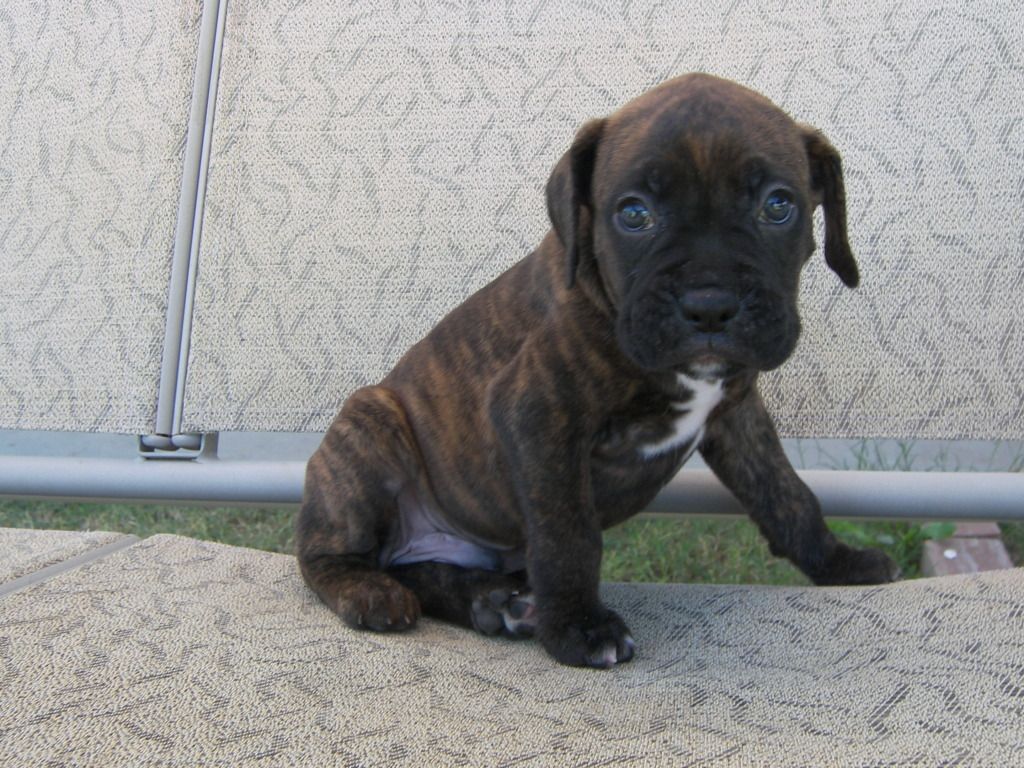 Darcy
This guy has been given the name Brock by his new family.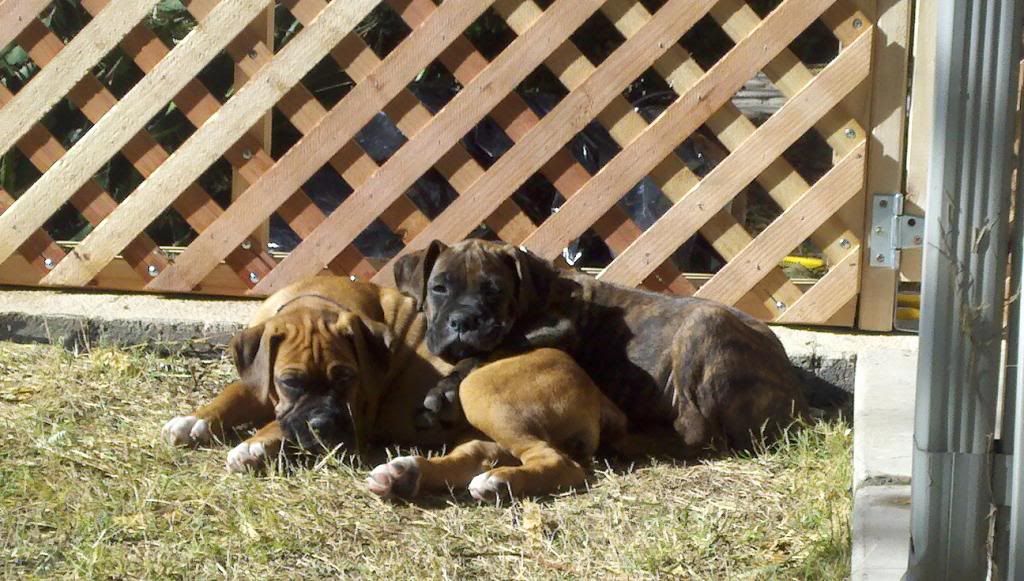 Holley & Brock have been doing great! They are sleeping through the night and have made themselves at home. Last night we went to our friends and they had a play date
Oh boy!  He weighed in @ 19lbs today and she weighs 17.2lbs.   I believe they are well feed.     They love going to our local feed store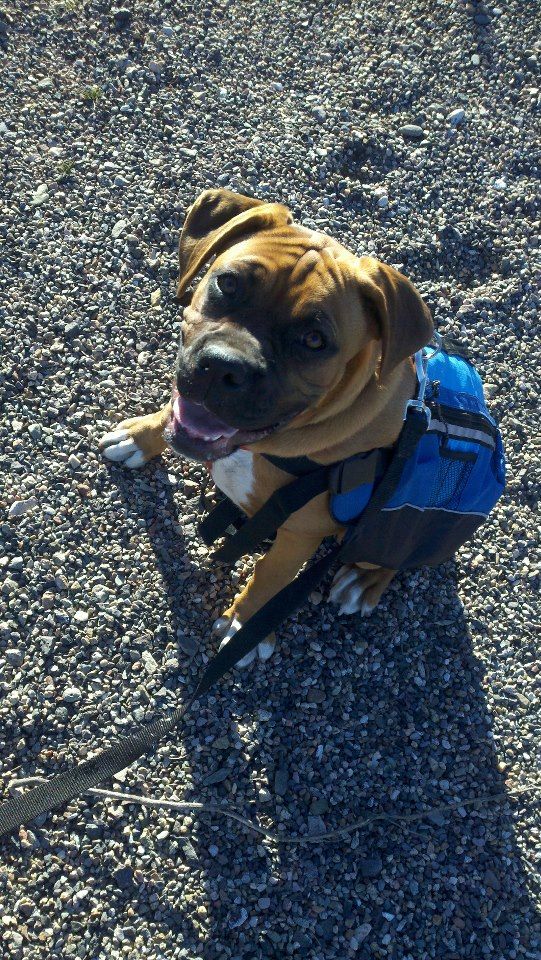 Holley at 5 months old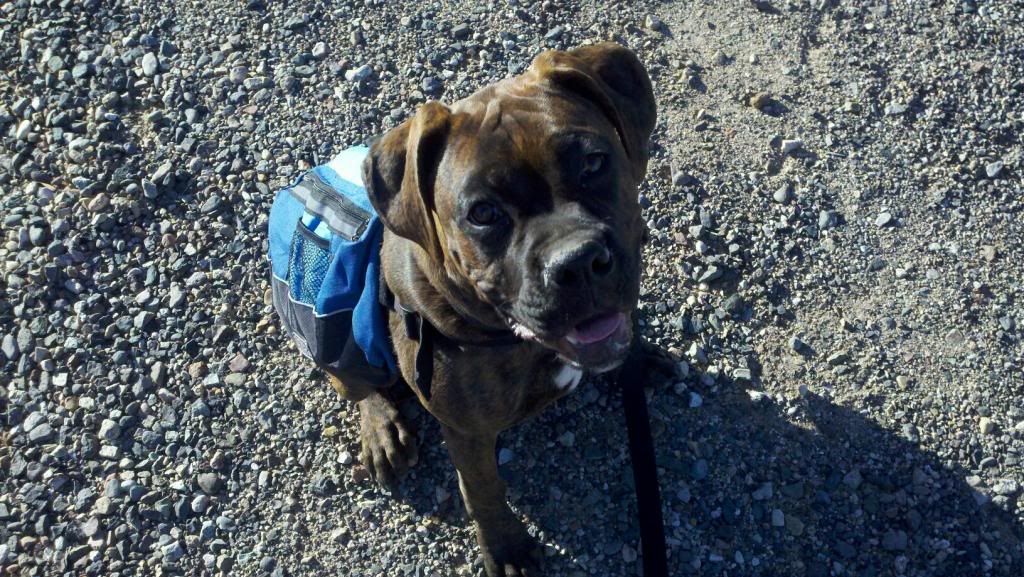 Brock at 5 months old
Lady and Bear's Spring 2014 Litter
 This litter was theme named after Disney characters .
 Woody now named Rambo lives with his new family nearby in AZ City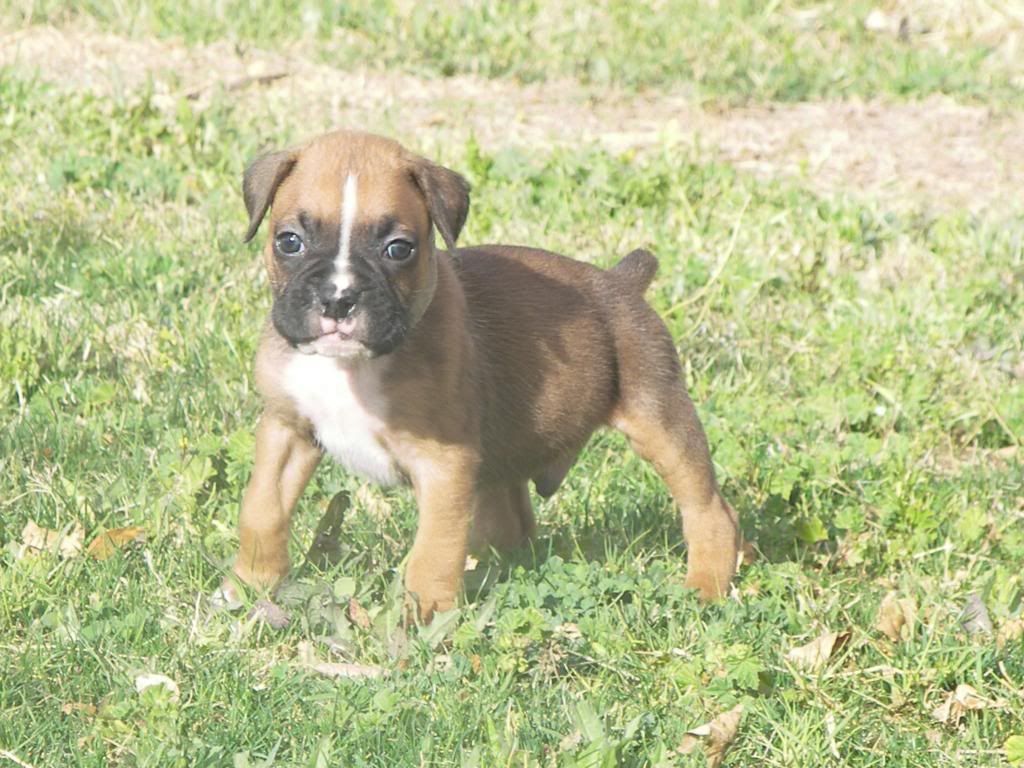 Bolt now living in New Mexico with his family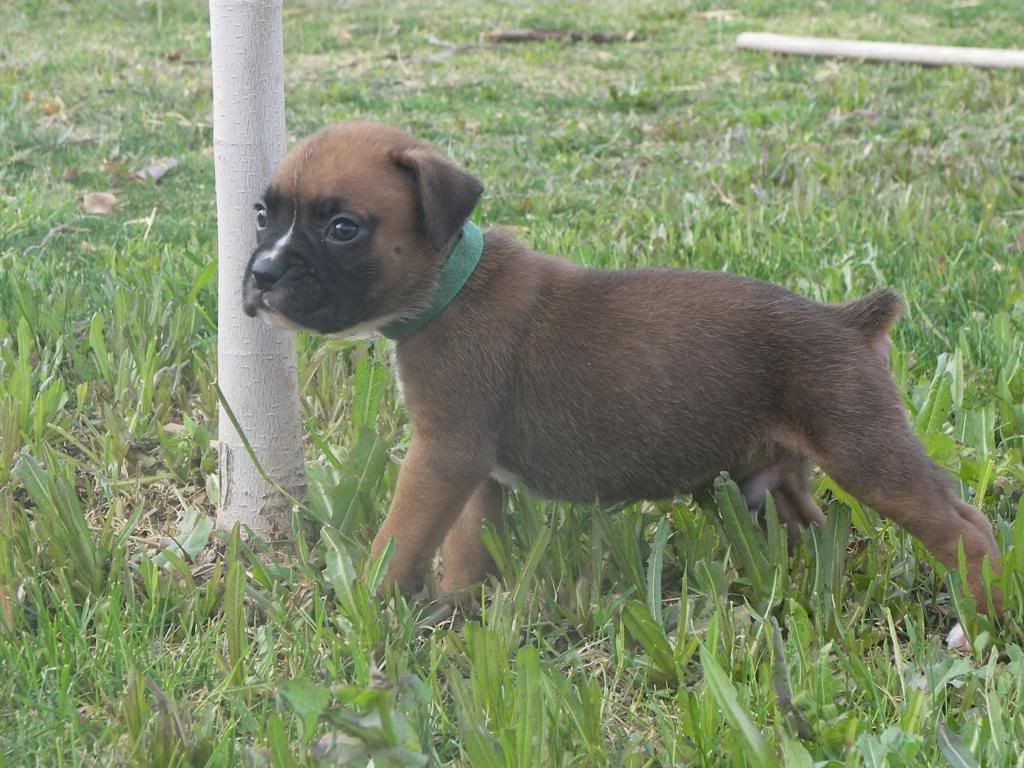 Buzz now named Fenway by his new family.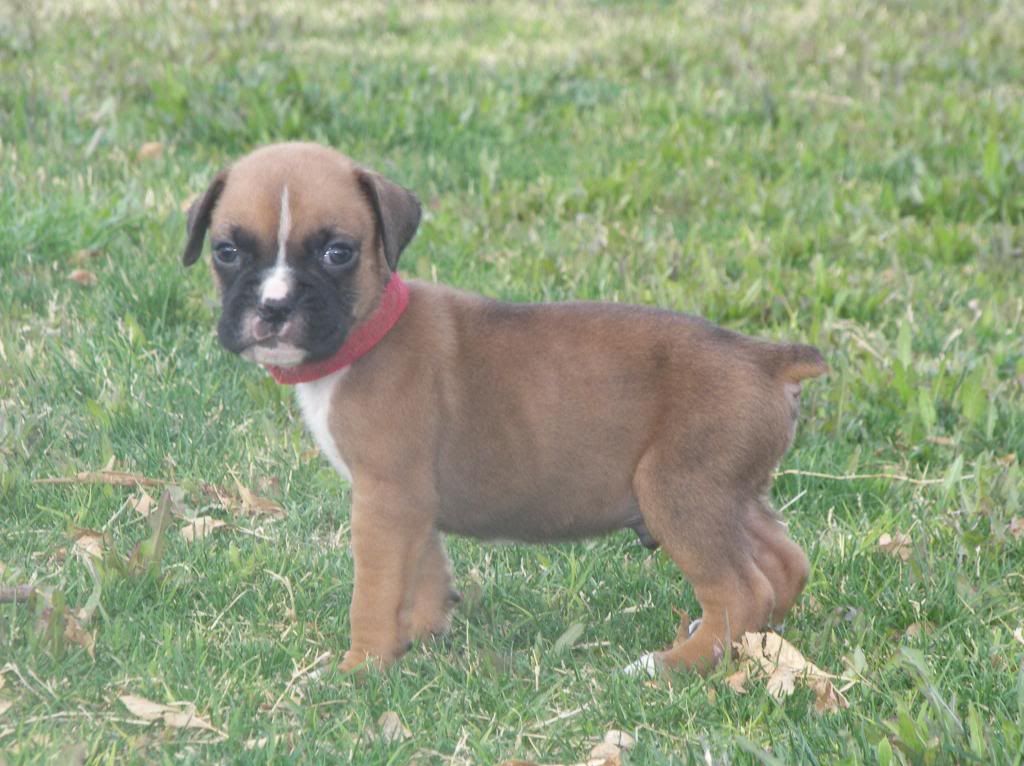 Olaf now named Tazz by his new family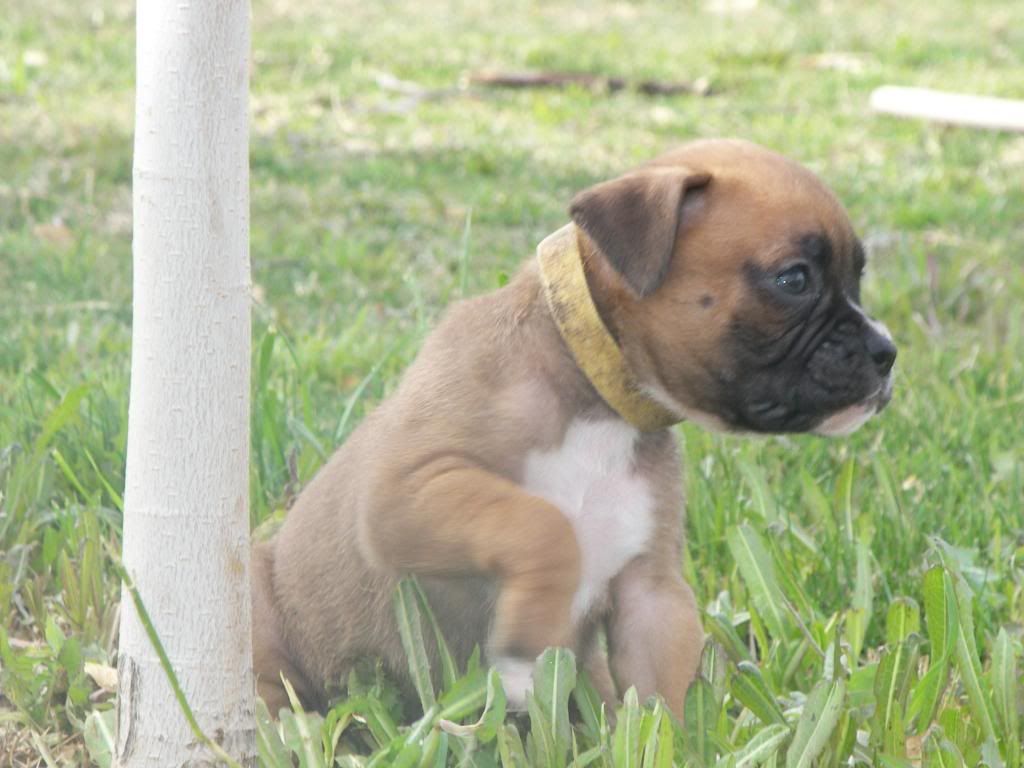 Lelo now named Nala by her new family in Virinia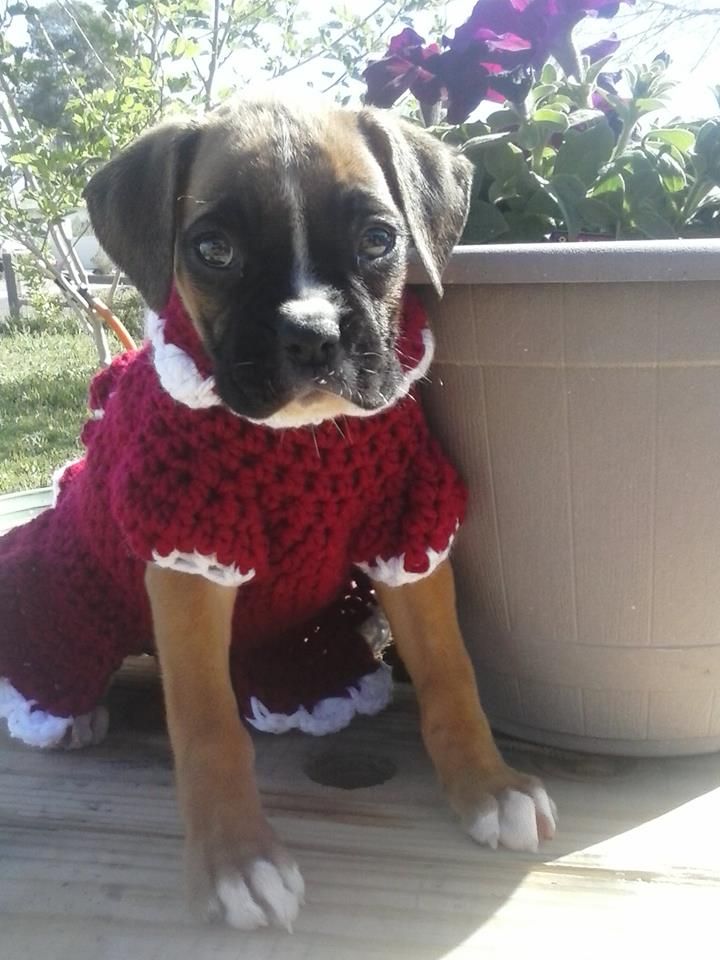 Holley
Now living with Susie Q and her family.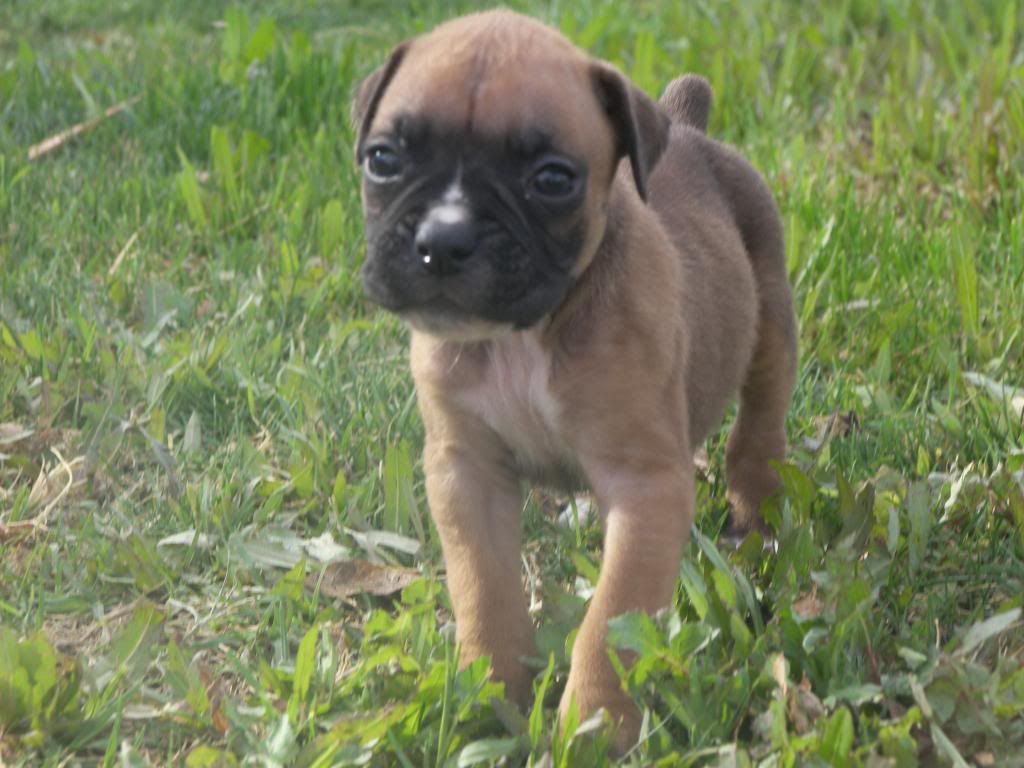 Belle now named Misty lives with her new mom. Also in the family is a Boxer named Bella and a Boston terrier named Jill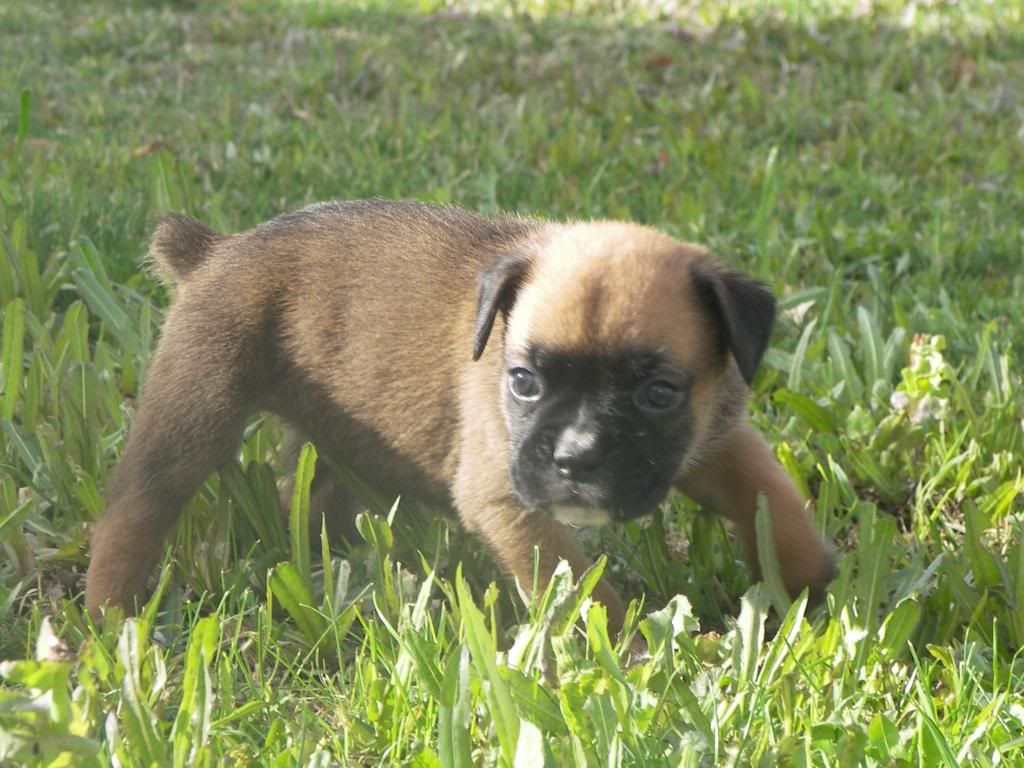 Aurora now with her new family in Phoenix AZ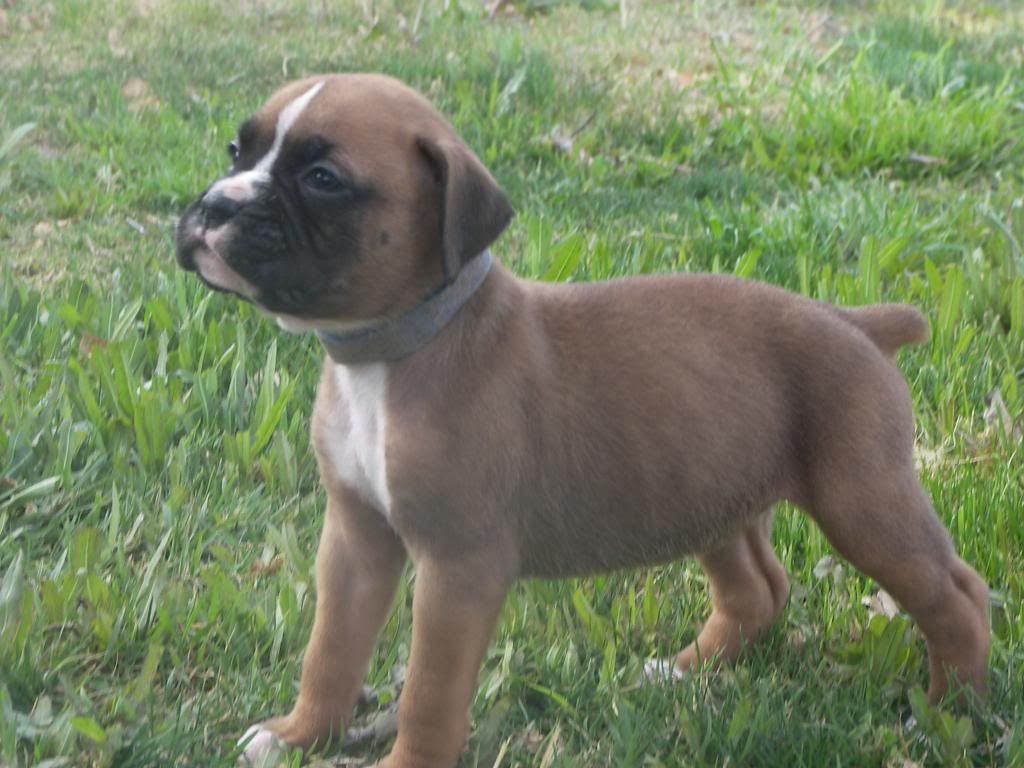 Ariel now lives in Phoenix AZ with her new family
 Lady and Bear's Fall litter.  This is their last litter together.
We theme named them after Candies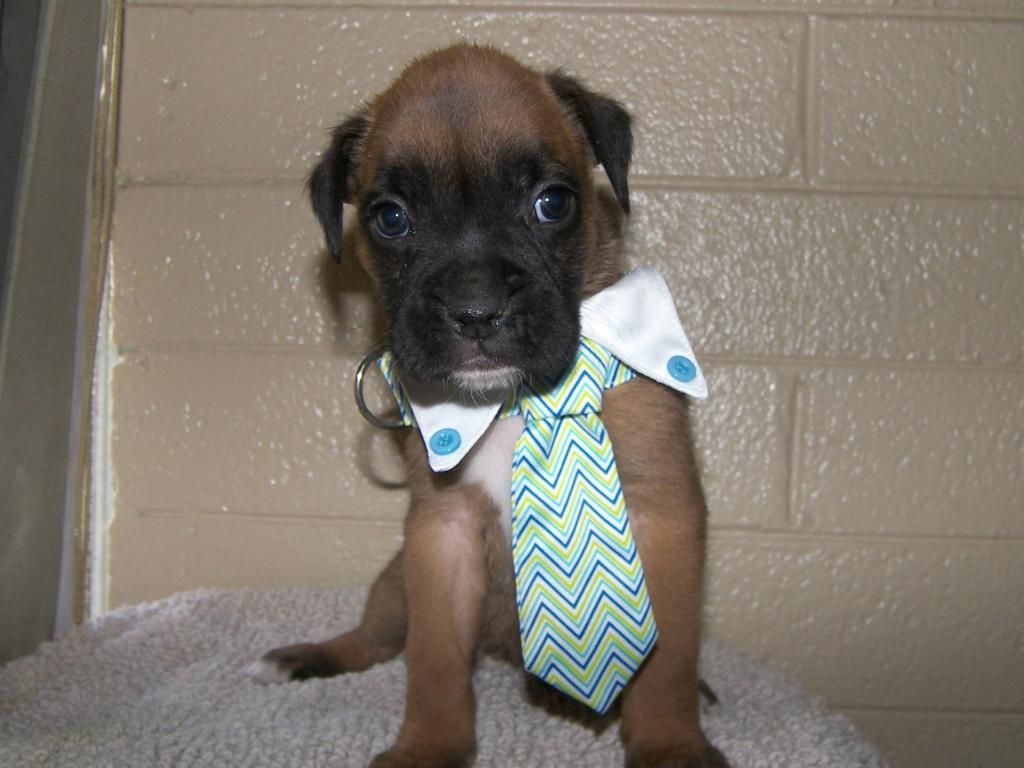 Rolo now living in Phoenix AZ with his new family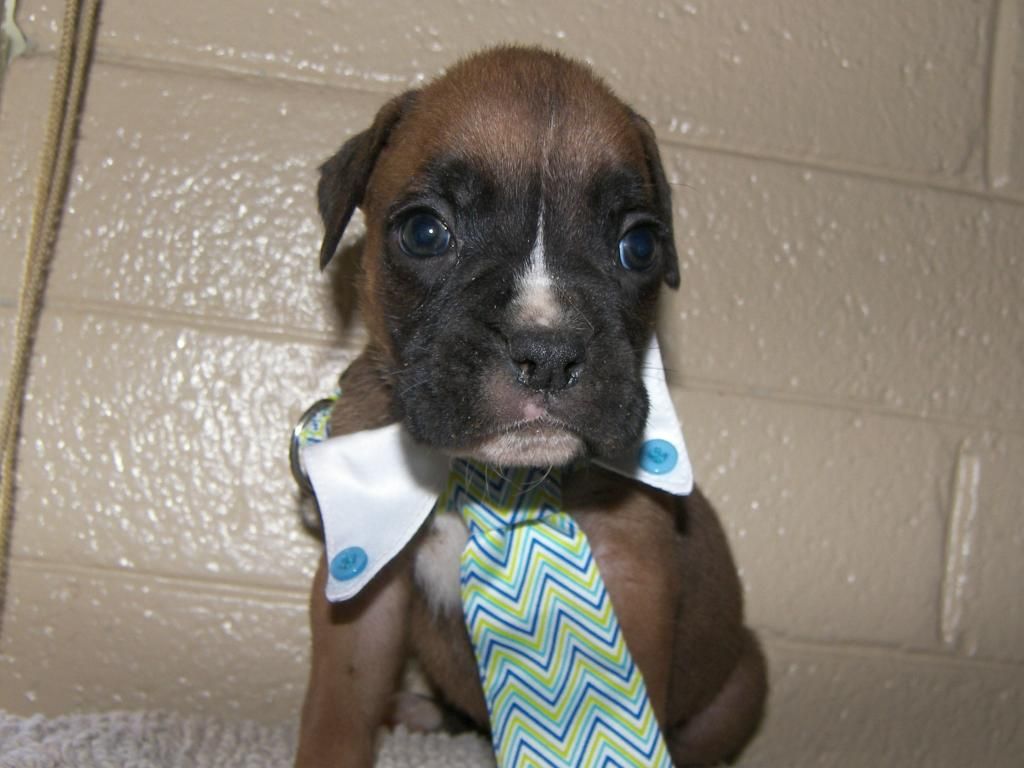 Heath now living in Phoenix AZ with his new family.  .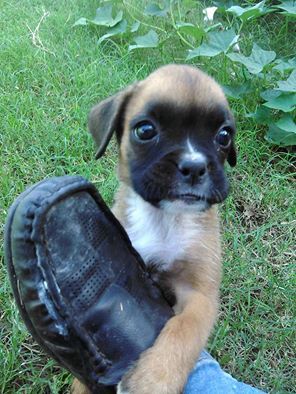 Now Skyrim.
Living with her new family Suzie Q and her family in Phoenix AZ .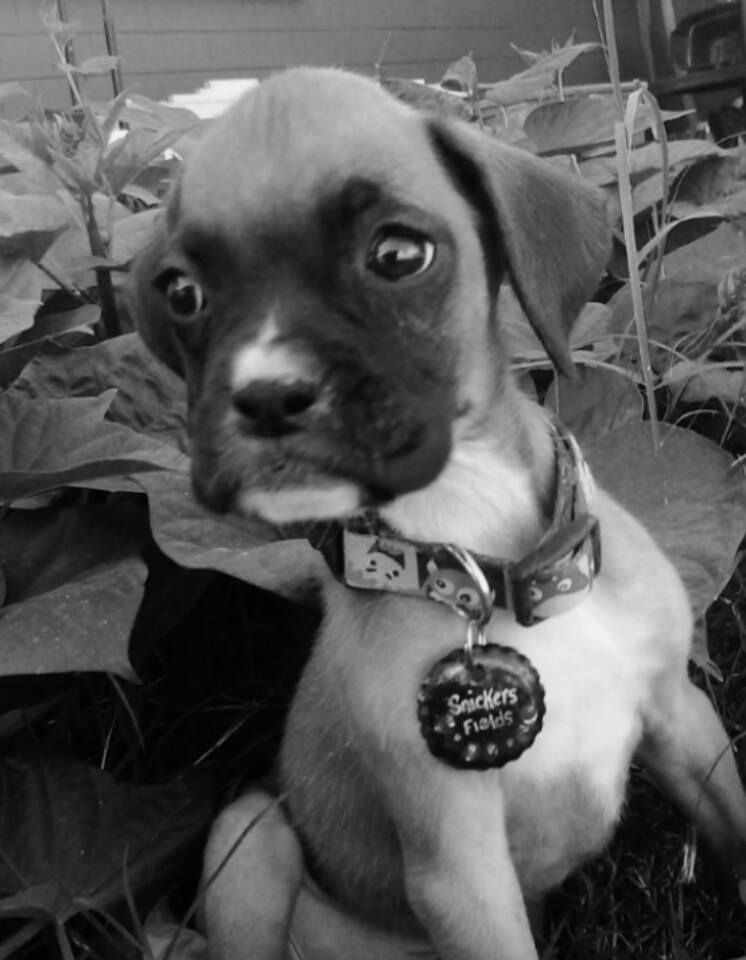 Halo
Now living with Brandon Fields and his family
 Brandywine and Rivendell 
Owned by Amanda and Michael Welnick
Riven is from our Titus and Maybel litter.  Brandy got a big sister